ERIA/JENESYS Internship Program for ASEAN Students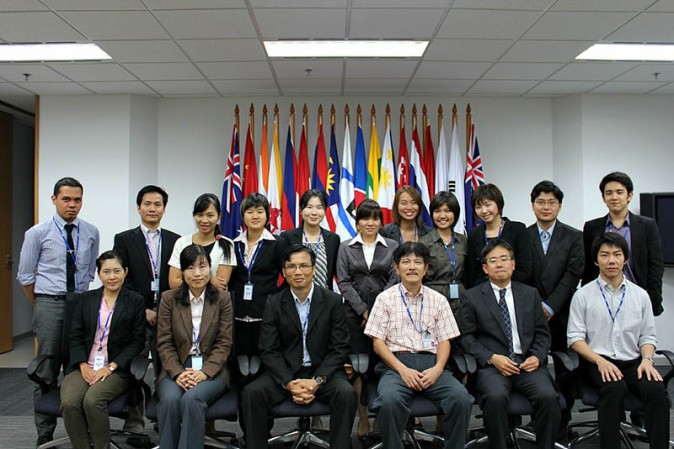 ERIA (Economic Research Institute for ASEAN and East Asia) concluded ERIA/JENESYS Internship Program from 5th to 14th of September 2011 in Jakarta, Indonesia.
Thirteen graduate students from Six Asian countries attended the events. During the programme, the students conducted research works with ERIA researchers and visited major international organizations such as the ASEAN Secretariat and Asian Development Bank (ADB) Jakarta Office. The Internship Program was designed to help the students to understand the role of international organizations and to attract them towards working in such organizations by allowing a temporary work assignment at ERIA.
This Program is a part of the ERIA/JENESYS - Next Leadership Program which was organized from August 2010 until September 2011. It is a scholarship program which aims to give opportunities to those graduate students who have ambitions to take up leadership works in ASEAN and East Asia. The candidates were chosen on the basis of their qualification through a strict screening and selection process. They are graduate students studying in high ranked graduate school such as Tokyo University, Waseda University, GRIPS, and Ritsumeikan Asia Pacific University. The students belong to Asian countries of Singapore, Thailand, Vietnam, Philippine, Cambodia and Indonesia.
The Internship Program consisted of several events which included preparation of research proposal, conducting research with various kind of methodology, and reporting of the research works. The students presented a research proposal before taking up actual research work. Dr. Misa Okabe, Associate Professor, Wakayama University and Dr. Sothea Oum, Associate Researcher, ERIA, supervised their research. They helped the students through important suggestions and recommendations for their research. The students collected information for their research works during their visit to the ASEAN Secretariat and ADB Jakarta office.
It is expected that after participating in the JENESYS Internship Program, students would be able to contribute significantly towards economic growth and development in ASEAN region in the future.
To reach the Press Release, please click on the following PDF file.

2011_0914_ERIA concludes ERIA_JENESYS Internship Program ASEAN Students.pdf
CHOOSE FILTER