ERIA Holds Workshop to Follow Up 'Lao PDR at the Crossroads'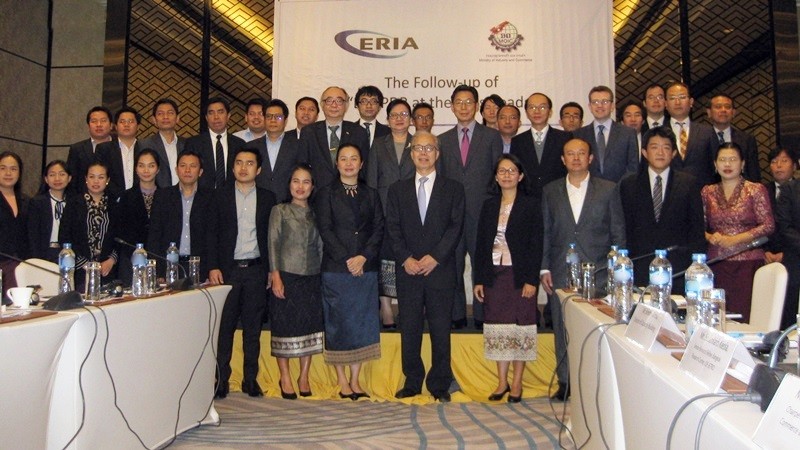 Vientiane, 6 February 2018: The Economic Research Institute for ASEAN and East Asia (ERIA) and the Ministry of Industry and Commerce (MOIC) of Lao PDR held a workshop in Vientiane on 6 February 2018.
The '4th Workshop: Follow Up on Lao PDR at the Crossroads' was chaired by H.E. Madame Khemmani Pholsena, Minister for Industry and Commerce for Lao PDR; Hon Amb Takeshi Hikihara, Ambassador of Japan to the Lao PDR; and Prof Hidetoshi Nishimura, President of ERIA. Several agencies, such as the Japan International Cooperation Agency (JICA), the Japan External Trade Organization (JETRO), and the Japanese Chamber of Commerce and Industry in Vientiane, also attended the Workshop.
Since February 2017, ERIA and the three aforementioned agencies have been involved in the framework discussing industrial development strategies for Lao PDR. It was a follow up of Lao PDR at the Crossroads: Industrial Development Strategies 2016-2030 that ERIA published in June 2016 in cooperation with MOIC to complement the '8th Five Year National Socio-Economic Development Plan (2016-2020)' and the '10 Year Socio-Economic Development Strategies (2016-2025) and Vision 2030'.
In their opening remarks, Minister Pholsena, Ambassador Hikihara, and Prof Nishimura expressed their appreciation on the hard work of the people involved in this framework and highlighted the importance of creating concrete actions to realise industrial policies. After the remarks, MOIC presented a report on the progress of discussions with ERIA, JICA, and JETRO, which has been developed at four subcommittee working groups: (1) agriculture, food processing, and agricultural value chain, (2) garment and other labour intensive industries (particularly wood processing, artisan crafts, and IT), (3) small- and medium- enterprises, and (4) industrial estates and special economic zones. From these working groups, MOIC also presented potential projects that should be implemented together these agencies in 2018. In response, the agencies provided useful comments on how to effectively implement projects proposed by MOIC, followed by active discussions among all participants. In particular, ERIA showed an interest in organising its capacity building programme for Lao officials, which was funded by the Australian government.
Potential projects discussed at the workshop are highly expected to materialise to achieve officially-formulated Lao development plans, which would result in steady industrialisation with global competitiveness in the coming years.
Image Gallery
Related Articles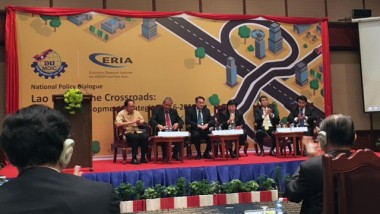 CHOOSE FILTER