ERIA Holds Working Group Meeting on Energy Outlooks, Analysis of Energy Saving Potential in EAS Region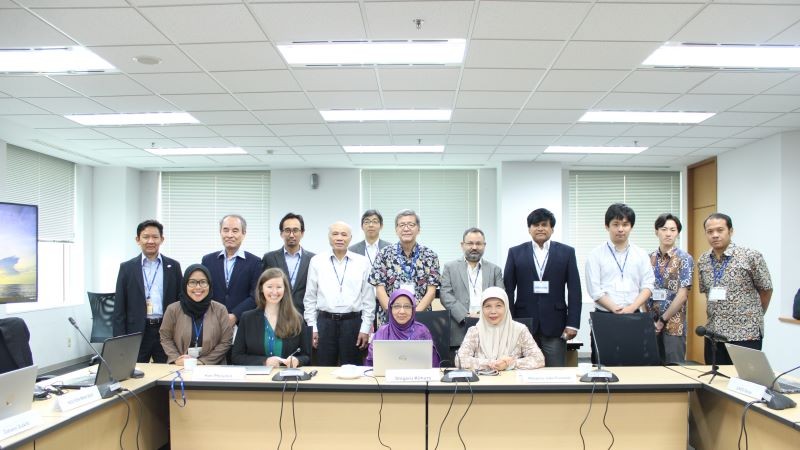 Jakarta, 17–18 January 2023: The Economic Research Institute for ASEAN and East Asia (ERIA) and the Institute of Energy Economics (IEEJ) Japan hosted a 2-day working group meeting on the energy outlooks and analysis of energy-saving potential in the East Asia Summit (EAS) region. The meeting discussed analysis and insights on trends in energy sectors covering EAS countries. It was attended online and in-person by working group members from Australia, China, India, Indonesia, Japan, the Republic of Korea, Malaysia, Myanmar, New Zealand, the Philippines, Singapore, Thailand, the United States, and Viet Nam.
Mr Shigeru Kimura, Special Advisor to the President on Energy Affairs, Energy Unit of ERIA, and Leader of the Working Group, opened the meeting and reviewed the EAS Energy Outlooks 2021–2022, focusing on low-carbon energy transition–carbon neutral (LCET-CN) and research activities in 2022–23.
Dr Han Phoumin, Senior Energy Economist of the Energy Unit of ERIA and Sub-leader of the Working Group, presented the main chapter of the report that analyses the potential impacts of proposed additional energy-saving goals, action plans, and policies on energy consumption in the EAS region by fuel and sector, and greenhouse gas emissions. He said the study provides a platform for energy collaboration on and capacity building in energy modelling and policy development amongst EAS countries.
In the next session, the Working Group members presented the results of LCET-CN, including total final energy consumption, power generation, total primary energy supply, and CO2 emission, and compared business-as-usual and alternative policy scenarios. Mr Kimura presented the LCET-CN scenarios on behalf of Brunei Darussalam, Cambodia, and Lao People's Democratic Republic, which were not represented in the meeting.
On the second day, experts lectured on low- and zero-emission technologies. Mr Leong Siew Meng, Managing Consultant of Green Tech Solutions, Malaysia, explained the role of energy efficiency and conservation in zero-energy building. Dr Norasikin Ahmad Ludin, Deputy Director of the Solar Energy Research Institute, the National University of Malaysia, presented an overview of solar photovoltaic (PV) technology and its evolution; current solar PV market, system, and applications; economic and environmental impact of solar PV system; and future trends in solar PV technology. Mr Shiv Aggarwal, from the General Electric Renewable Energy Hybrids, Singapore, explained the role of battery storage system and GE Vernova Hybrids in the energy transition to achieve clean energy.
Mr Yoshikazu Kobayashi, Manager of CCUS (Carbon Capture, Utilisation, and Storage) Group in IEEJ Japan, discussed the potential of ammonia as fuel for power generation as well as carbon recycling. Mr Takahiro Tagami, Manager of Climate Change Group, IEEJ Japan, lectured on negative-emission technologies and direct air capture to achieve carbon neutrality. Mr Susumu Ohara, from the Hydrogen and CCS Project Department of Japan Organisation for Metals and Energy Security, presented the carbon capture storage technologies, including CO2 capture, transportation, and storage. Mr Kenji Kimura, from the Nuclear Energy Group of IEEJ, lectured on nuclear energy development in the world, including overviews of study cases from China, France, Japan, the Russian Federation, the UK, and the US. Mr Kimura explained the role of hydrogen as an important source of energy, its potential in EAS region, and its global market.
Closing the meeting, Mr Kimura presented the EAS Energy Outlook Report 2022–2023, which includes the updated LCET-CN scenarios of EAS countries, reflecting current development of energy technologies, and cost-comparison analysis between BAU and LCET-CN scenarios, and explained the timeline for the study.
The members of the Working Group are Mr Shigeru Kimura, ERIA; Ms Suharyati Nugroho, National Energy Council, Indonesia; Mr Zaharin Zulkifli, Energy Commission, Malaysia; Ms Swe Swe Than, Oil and Gas Planning Department, Ministry of Energy of Myanmar; Dr Zhong Sheng, Energy Studies Institute, National University of Singapore; Ms Supit Kamklad, Ministry of Energy, Thailand; Mr Nguyen Minh Bao, Institute of Energy, Viet Nam; Mr Shamim Ahmad, Department of Climate Change, Energy, the Environment and Water, Australia; Ms Hui Li, Center for Energy and Environmental Policy Research, Beijing Institute of Technology, China; Ms Hien Dieu Thi Dang, Energy Efficiency and Conservation Authority, New Zealand; Dr Atul Kumar, School of International Studies, Jawaharlal Nehru University, India; Mr Endo Seiya, IEEJ, Japan; Dr Kyung-Jin Boo, Institute of Engineering Research, Seoul National University, Republic of Korea; Ms Clara E. Gillispie, National Bureau of Asian Research, the United States; and Ms Lilibeth Morales, Department of Energy, the Philippines.
Related Articles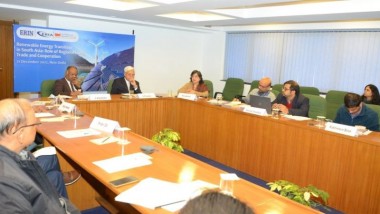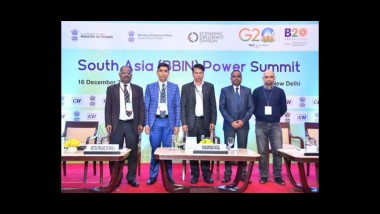 CHOOSE FILTER