ERIA Holds 11th Academic Advisory Council Meeting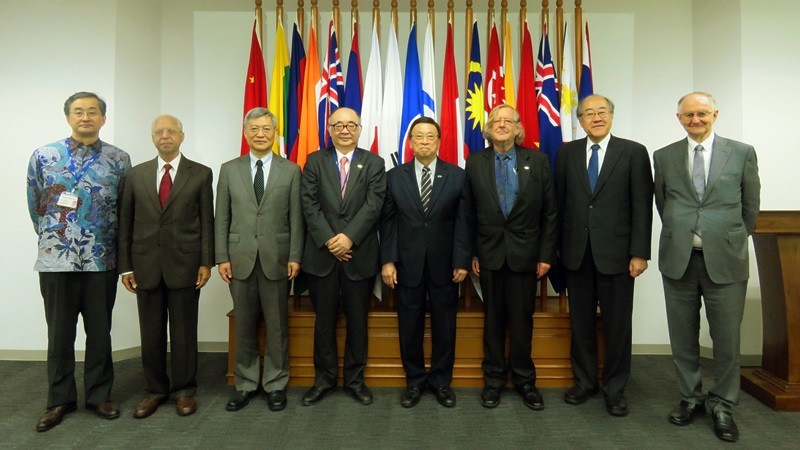 Jakarta, 5 April 2019: The Economic Research Institute for ASEAN and East Asia (ERIA) held this year's Academic Advisory Council (AAC) Meeting in its Jakarta office on 5 April 2019. The meeting was chaired by Dr Hank Lim, the Chairperson of AAC and Senior Research Fellow in the Singapore Institute of International Affairs.
The Council is composed of internationally renowned East Asia Summit countries' scholars and experts from universities, research institutions, the private sector, international organisations and non-governmental organisations. It provides advice and support to the Office of the President on the annual work programme, research outcome, and the performance of researchers.
The AAC members in attendance were Prof Dr Peter Drysdale (Emeritus Professor, Crawford School of Economics and Government, Australia), Prof Gary Hawke (Emeritus Professor, Victoria University of Wellington, and Senior Fellow, NZ Institute of Economic Research, New Zealand), Prof Kyoji Fukao (President of the Institute of Developing Economies Japan External Trade Organization), Prof Zhang Yuyan (Director, Institute of World Economics and Politics (IWEP), Chinese Academy of Social Sciences (CASS)), and Mr Pravin Kumar Agarwal (Director of The Energy and Resource Institute, India).
In his opening remarks, Dr Hank Lim mentioned that over the years ERIA has 'progressively moved up' on the Global Go To Think Tank Index Report (GGTTI) conducted by the Think Tanks and Civil Societies Program (TTSCSP) at the University of Pennsylvania. ERIA was ranked number 14 globally in the category of International Economics Policy Think Tanks, up from number 24 last year. Dr Lim said that there were other categories in which ERIA has the potentials to rank higher and he called on the members of AAC to provide their support and advice.
Prof Hidetoshi Nishimura, President of ERIA, provided a brief overview on ERIA's activities in FY 2018. On the area of economic research, ERIA together with the OECD and the ASEAN Coordinating Committee on Micro, Small, and Medium Enterprises (ACCMSME), supported by the Government of Canada, officially launched the ASEAN SME Policy Index (ASPI) 2018 in September 2018. 'The ASPI 2018 maps and benchmarks SME development policies across ASEAN Member States,' said Prof Nishimura. He also mentioned the joint feasibility studies of the ASEAN–Canada FTA, the work of ERIA's Policy Design Department related to trade and investment issues, and various energy-related issues.
Moreover, Prof Nishimura mentioned the Healthcare Unit's activities with the Asia Health and Wellbeing Initiative (AHWIN) and the AHWIN website that was launched in January 2019 to publish the activities related to AHWIN, including the outcomes of studies carried out by ERIA's Healthcare Unit.
ERIA's Chief Operating Officer Mr Izuru Kobayashi provided a brief explanation on the direction of ERIA Work Plan for FY2019 and beyond, followed by the presentation on economics research activities by Prof Fukunari Kimura, ERIA's Chief Economist. Afterwards, Senior Energy Economist Dr Venkatachalam Anbumozhi presented the energy research activities for FY2018 and FY2019.
There were three presentations of key research projects in the upcoming year. First, presentation on 'Digital Economy, Innovation, and East Asia's Competitiveness in GVCs' by Economist Dr Lurong Chen. Second, 'Natural Gas and LNG as a Key Pillar in the Future Energy Mix of EAS Countries' by Energy Economist Dr Yanfei Li. Third, 'The Comprehensive Asia Development Plan 3.0 (CADP 3.0)' by Prof Fukunari Kimura.
In their closing remarks, both Prof Nishimura and Dr Lim expressed their appreciation for the outgoing COO Kobayashi for his hard work for ERIA. Mr Kobayashi's term would end this year after a four-year secondment in ERIA.
Related Articles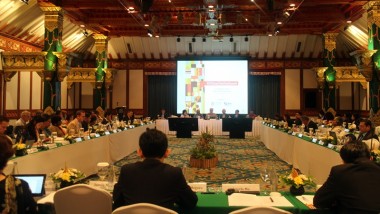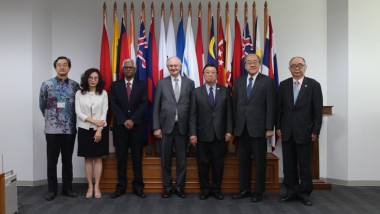 CHOOSE FILTER