ERIA Delegation Joins the Carbon Recycling Ministerial Conference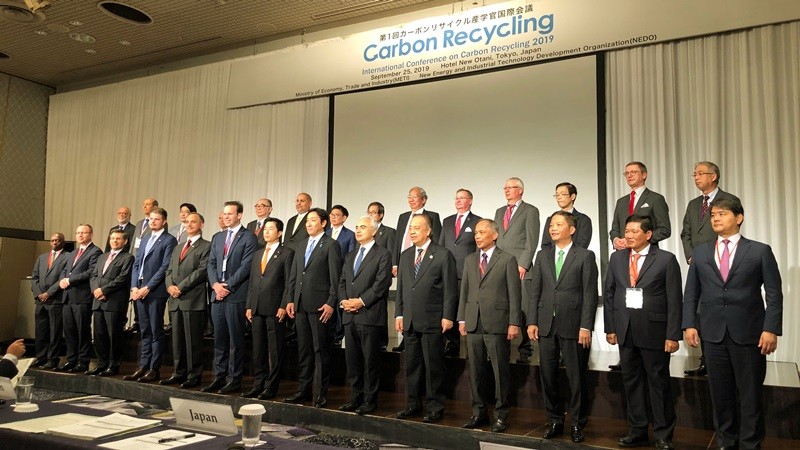 Tokyo, 25 September 2019: A delegation from ERIA participated in the International Conference on Carbon Recycling 2019 on 25 September 2019 in Tokyo. Organised by Japan's Ministry of Economy, Trade, and Industry (METI) and the New Energy and Industrial Technology Development Organization of Japan, the conference was a ministerial-level kick-off meeting on carbon recycling issues, including carbon capture storage (CCS) and carbon capture usage and storage (CCUS). The participants in the half-day event, including energy ministers, high-ranking officials, business representatives, and academics from all over the world, shared their views on developing carbon recycling or CCUS technology, fostering innovation, and reducing the costs and deployment of related technology.
In his opening remarks, H.E. Mr Isshu Sugahara, Minister of Economy, Trade, and Industry of Japan issued the three-C initiatives on carbon recycling: caravan (close communication amongst research organisations and international organisations), centres of research, and collaboration around the world.
At the ministerial session, ERIA President Prof. Hidetoshi Nishimura presented a paper on the expected role of carbon recycling in the ASEAN region, citing the major share fossil fuel will continue to have in the energy mix. He said that CCUS is indispensable for Asia's low-carbon future in the medium to long term and that carbon recycling could improve the economic viability of CCUS. He added that the R&D of the next generation of high-efficiency low-emission technologies and CCUS technologies, including carbon recycling, should be strengthened.
Experts and participants from the business sector presented possible technologies to realise CCUS, such as enhanced oil recovery, methanation, mineralisation, and artificial photosynthesis.
CHOOSE FILTER