ERIA Delegation Engages with Lao PDR's Minister of Energy and Mines in Preparation for ASEAN Chairmanship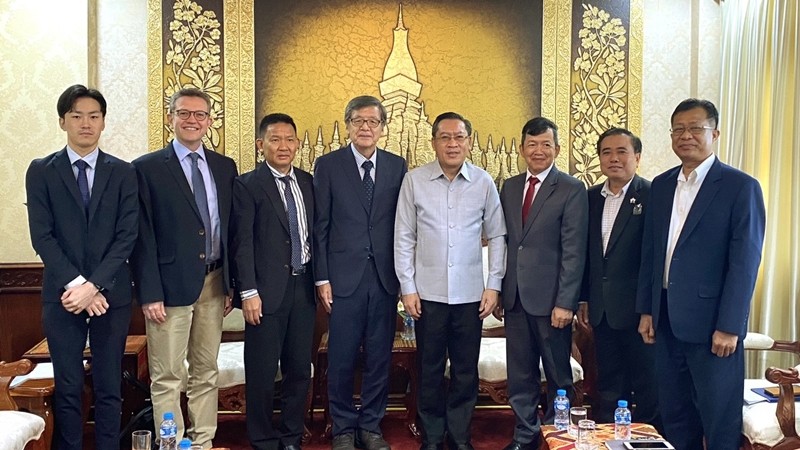 Vientiane, 18 September 2023: A delegation from ERIA paid a courtesy visit to the Minister of Energy and Mines of Lao PDR Phoxay Sayasone to discuss a range of issues. The Minister was accompanied by Permanent Secretary at the Ministry Khamso Kouphokham. The ERIA delegation consisted of Shigeru Kimura, Special Advisor on Energy Affairs, Dr Han Phoumin, Senior Energy Economist, Kei Sudo, Senior Policy Advisor, and Jeremy Gross in his role as the coordinator for ERIA's support for the Lao PDR Chairmanship of ASEAN in 2024.
During the courtesy call, ERIA affirmed its willingness to respond to the recent request made by the Minister of Industry and Commerce Malaithong Kommasith to support the ASEAN Economic Community Pillar priority economic deliverable (PED) related to achieving substantive progress in finalising the successor agreement on the ASEAN power grid and multilateral trade in the region during the Lao PDR Chairmanship. ERIA indicated its ability to contribute in part to this PED, through an ongoing study conducted on this issue in collaboration with the ASEAN Centre on Energy (ACE) and as approved by the HAPUA Council in 2022. Additionally, ERIA was pleased to note that it could support an event concerning the power grid, as requested by the Minister of Industry and Commerce.
During the meeting, ERIA also briefed the Minister on the development of the energy white paper titled 'Lao PDR Energy Security for Sustainable Development.' This study represents a significant contribution to Lao PDR's efforts to develop value-added goods from clean energy, and to prompt the efficient domestic development of energy-intensive products.
To further strengthen the relationship between ERIA and the Ministry of Energy and Mines, both parties agreed to explore the possibility of establishing a five-year Memorandum of Understanding (MOU). This MOU will include a variety of support and collaborative activities between ERIA and the Ministry, including assistance for the Lao PDR Energy Research Institute, joint research projects, a focus on energy statistics, and the establishment of an internship programme. ERIA also extended an invitation to Minister Sayasone to visit the ERIA office later this year.
CHOOSE FILTER