ERIA contributes to the ASEAN- Japan Public-Private Dialogue on New Green Industries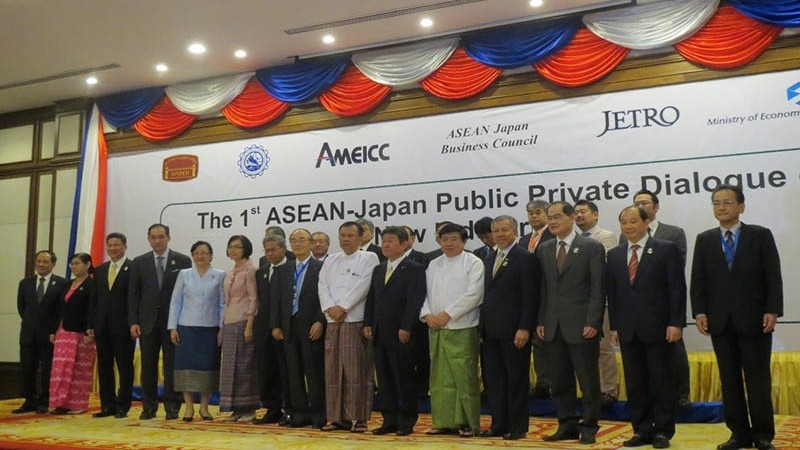 ASEAN has experienced and is experiencing many economic and social challenges such as global warming, energy security, ageing society and developmental gap. These challenges cannot be solved solely through government activities but through a dynamic engagement of the private sector.
In order to discuss the issues and challenges in nurturing new green, health and content industries, the first ASEAN-Japan Public Private Dialogue was organized in Nay Pyi Taw on 26 August, 2014. Organized as a side event to the ASEAN Economic Ministers (AEM) meeting, the dialogue was jointly inaugurated by Mr. Kan Zaw, Minister of National Planning and Economic Development, Myanmar, and Mr. Toshimitsu Motegi, Minister of Economy, Trade and Industry, Japan. Dr. Venkatachalam Anbumozhi of ERIA participated in the thematic session on Green Industries and outlined the estimated energy supply and demand gaps and the potentials of new environmental industry development from the ASEN perspective. He also emphasized the need for public-private partnerships and localized business models, with specific and redefined roles for stakeholders in providing information, developing markets and providing innovative financial resources. The participants, numbering nearly 100 officials and industries from ASEAN countries and Japan, participated in the dialogue and agreed to continue discussions and knowledge sharing activities across the region through relevant organizations such as ERIA. They also recommended that the AEM should strengthen the regulatory measures and broaden the incentive systems to scale up the ASEAN green market, sharing the best practices and know-how of Japan.
CHOOSE FILTER