ERIA conducts the 1st AEC Blueprint Mid-Term Review Workshop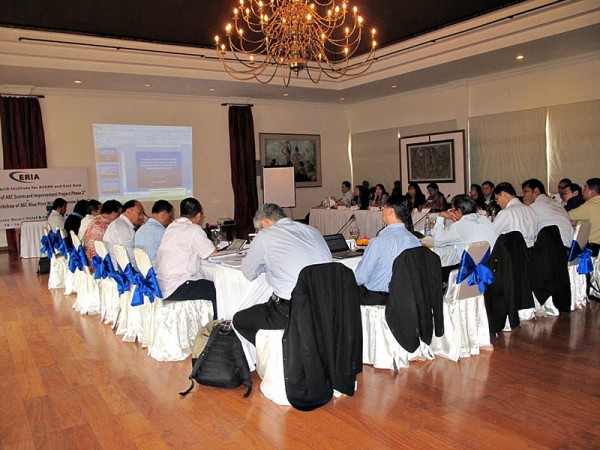 ERIA conducted the 1st AEC Blueprint Mid-Term Review Workshop on September 15th -16th, 2011 in Ubud, Bali. The workshop was attended by 26 participants including members of the ERIA Research Institutes Network (RIN) and four high level technical officials of the ASEAN Secretariat.
The objective of the mid-term review (MTR) is to assess the implementation of the AEC Blueprint and put forward recommendations to ensure the timely implementation of the AEC by 2015. In doing so, the MTR will focuses on the implementation performance (level and gap viz target), outcomes and impact to the economy and, ways forward toward accelerated implementation. At the same time, the MTR will also looks into the strong and weak points of the implementation of the commitments while drawing lessons from successes, failures or shortcomings of the implementation.
During the workshop, the participants had a good exchange of views on the terms of reference for the MTR and its undertaking. The participants also discussed and finalized the questionnaires which will be used to interview key stakeholders including government officials and business community on the implementation of the measures under the four pillars of the AEC Blueprint.
ERIA conducts the 1st AEC Blueprint Mid-Term Review Workshop to assess the implementation and impact of the AEC Blueprint.pdf
CHOOSE FILTER