ERIA Co-organises ASEAN 50th Anniversary Symposium IV with Japanese Institutions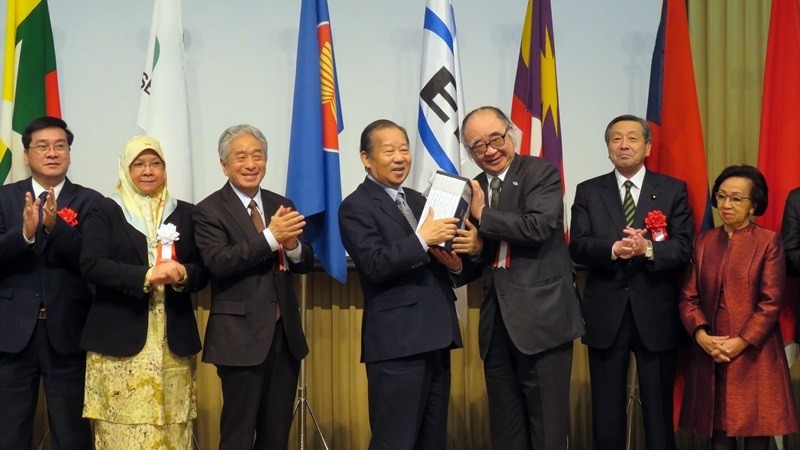 Tokyo, 1 March 2018: The Economic Research Institute for ASEAN and East Asia (ERIA) co-organised the ASEAN 50th Anniversary Symposium IV in Tokyo, Japan on 1 March 2018 in a bid to promote understanding of developments that ASEAN has achieved and the challenges it has recently encountered.
ASEAN-Japan Centre and the ASEAN Committee in Tokyo acted as co-organisers of the event, supported by the Ministry of Foreign Affairs of Japan, Ministry of Economy, Trade and Industry of Japan (METI), Japan External Trade Organization, and Japan Chamber of Commerce and Industry.
Mr Masataka Fujita, Secretary General of ASEAN−Japan Centre, delivered the opening remarks, followed by guest speech by H.E. Kazuyuki Nakane, State Minister for Foreign Affairs, who discussed ERIA's intellectual contributions and expectations towards ASEAN-Japan Centre activities. H.E. Masaki Ogushi, Parliamentary Vice-Minister of Economy, Trade and Industry, delivered a speech on Japan's support for ASEAN in terms of economic integration and social issues. At the end of the opening session, Prof Hidetoshi Nishimura, President of ERIA, delivered a brief overview of ERIA's flagship project in 2017, the five-volume commemorative publication ASEAN@50: Retrospectives and Perspectives on the Making, Substance, Significance, and Future of ASEAN. The publication brings the retrospectives and perspectives of key people who have been involved in the making and working of ASEAN, voices from the ASEAN peoples, and the analytical, insights, perspectives and reflections of eminent persons and experts on the evolution, substance and future of ASEAN.
Session 1 'Whether ASEAN community building and centrality in fast changing East Asia?' was moderated by Mr Yoshifumi Fukunaga, Principal Deputy Director of Policy Planning and Coordination Division, Trade and Economic Cooperation Bureau, METI. Ambassador Delia Domingo-Albert, Former Secretary of Foreign Affairs of the Republic of the Philippines, talked about ASEAN as a regional engine and her concerns about the future of ASEAN centrality. Then, Mr Simon Tay, Chairman of Singapore Institute of International Affairs (SIIA), discussed ASEAN unity. Lastly, Prof Susumu Yamakage, Professor of Aoyama Gakuin University, discussed how ASEAN has transformed its characteristics to 'Centrality and Connectivity'.
Session 2 discussed 'ASEAN economic transformation and ASEAN Economic Community: the past, the present, and the future' moderated by Mr Fujita. Dr Hank Lim Giok-Hay, Senior Research Fellow at Singapore Institute of International Affairs (SIIA) and the Chair of ERIA's Research Institutes Network (RIN), reviewed the history and progress of the economic aspect in ASEAN. Following that, ERIA's Chief Economist Prof Kimura insisted that ASEAN needs to formulate new development strategies in accordance with third international specialisation. Subsequently, Dr Ponciano S Intal Jr., Senior Economist of ERIA, underscored the importance of implementing good regulatory practice.
In his keynote speech, H.E. Toshihiro Nikai, Secretary-General of Liberal Democratic Party, Japan, shared his successful experience of building the positive relationship between ASEAN and Japan since the Asian currency crisis in 1997 along with his sincere respect for the wisdom of people in Southeast Asia and continuous development of ASEAN. The closing remarks was delivered by H.E. Ambassador Kamilah Hanifah, Chairperson of ASEAN Committee in Tokyo and Ambassador of Brunei Darussalam to Japan, in which she highlighted the resolve to eliminate concern about protectionism as an open ASEAN and to move forward with Japan to tackle challenges.
Image Gallery
Related Articles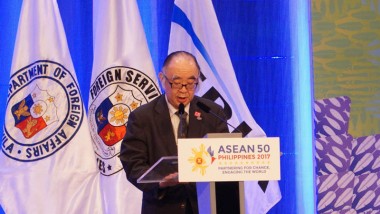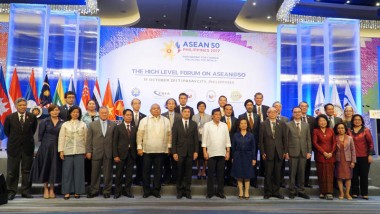 CHOOSE FILTER