ERIA-CIEM Workshop on Socializing AEC Scorecard and Mid Term Review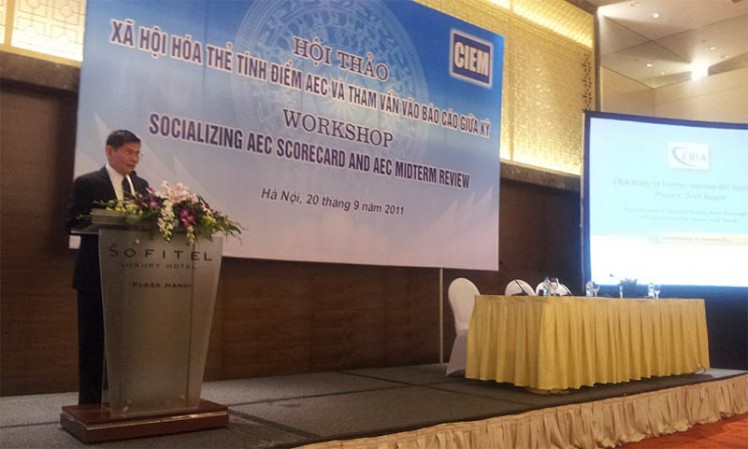 The Economic Research Institute for ASEAN and East Asia (ERIA) and The Central Institute for Economic Management (CIEM) co-hosted a workshop titled "Socializing AEC Scorecard and Midterm Review Workshop" on September 20, 2011, in Hanoi.
Around 50 participants attended the workshop including researchers, government official and business. Mr. Daiki Kasugahara, General Manager of ERIA, Dr. Ponciano S. Intal and Dr. Yoshifumi Fukunaga, Researchers of ERIA also attended the workshop.
The workshop aims to socialize the AEC scorecard and AEC Mid Term Review (MTR) to the ASEAN regions and intend to inform and consult with researchers, business, and government officials regarding the implementation plans of AEC scorecard and MTR.
It was opened by Mr. Le Quang Lan, Ministry of Industry and Trade of Viet Nam. Mr. Lan mentioned that the MTR project would follow the AEC scorecard project to provide recommendations on ways forward. He also expected that the MTR project would be soon completed, with good suggestions on shortcomings and ways forward.
Dr. Ponciano S. Intal, Senior Researcher of ERIA, made a presentation on "The AEC Scorecard project and AEC Mid Term Review". He explained that Vietnam's engagement in implementing the AEC efforts would be realize by 2015. Institutionalization of monitoring frameworks for AEC efforts both at national and regional levels are called for. Furthermore, CLMV countries should make intense efforts in the areas including trade and investment facilitation. Additionally, he briefly mentioned the possible discussion of ASEAN Leaders on "ASEAN Beyond 2015" in the upcoming Summits in Bali.
The next presentation was delivered by Dr. Vo Tri Thanh, his presentation on "Viet Nam's score and Policy Recommendations" regarding Vietnam scores high in some policy areas, but scores very low in others, particularly in NSW and customs procedure. He reiterated the need for monitoring bodies at regional level and national levels. He also called for better coordination between central and provincial governments.
During the workshop, participants deepened their understanding of the implementation plans and progress of the AEC Scorecard and AEC Mid Term Review in preparation for the ASEAN Economic Community in 2015.
Photo 1: Dr. Ponciano S. Intal Jr.,Senior Researcher of ERIA
ERIA - CIEM Socialize AEC Scorecard & AEC Mid Term Review.pdf
CHOOSE FILTER