ERIA Attends the Informal Meeting of AEM-METI Consultation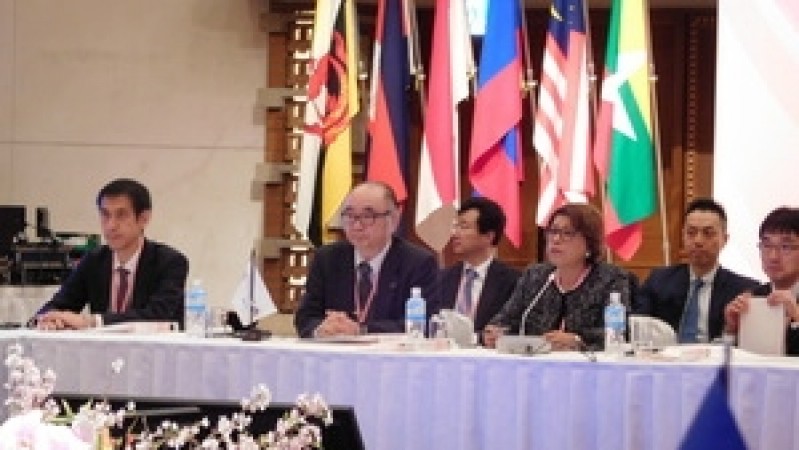 A delegation from the Economic Research Institute for ASEAN and East Asia (ERIA) attended the informal meeting of ASEAN Economic Ministers (AEM)-METI consultations in Osaka, Japan on 8 April 2017. This meeting was part of the ASEAN Economic Ministers Roadshow to Japan from 6 to 9 April.
President of ERIA, Prof Hidetoshi Nishimura, and Senior Policy Fellow Tan Sri Dr Rebecca Sta Maria represented ERIA in the meetings. They explained how the academia could contribute to the promotion of Regional Comprehensive Economic Partnership (RCEP) negotiations. RCEP is an ASEAN-initiated trade agreement that aims to broaden and deepen the economic integration between ASEAN and six dialogue partners: Australia, China, India, South Korea, Japan, and New Zealand.
During the International Symposium 'New Normal, Integration, and Inequality' held by ERIA and the Institute of Developing Economies - Japan External Trade Organization (IDE-JETRO) on 7 March 2017, Dr Rebecca has expressed her support for RCEP negotiations.
'We must strike while the iron is hot. We need to keep the growth momentum in East Asia. This is about the next fifty years - our negotiators must not look through the narrow lens of what's in it for me today,' she stated, adding that there were many good things in the Trans-Pacific Partnership Agreement (TPP) which should be considered for RCEP.
Dr Rebecca has also written several opinion articles on the subject of RCEP. In the latest one published this month, she highlighted the fact that there was a pressure for the countries to conclude the negotiations this year after missing two deadlines in the past. In another article, Dr Rebecca stated that amidst a rise in protectionism and the uncertainty of TPP, RCEP has become more relevant than ever as it could be an avenue towards keeping markets open, deepening economic integration, and narrowing the development gap among the member states.
CHOOSE FILTER