Editors Discuss ASEAN Vision 2040 during the Eighth ERIA Editors' Roundtable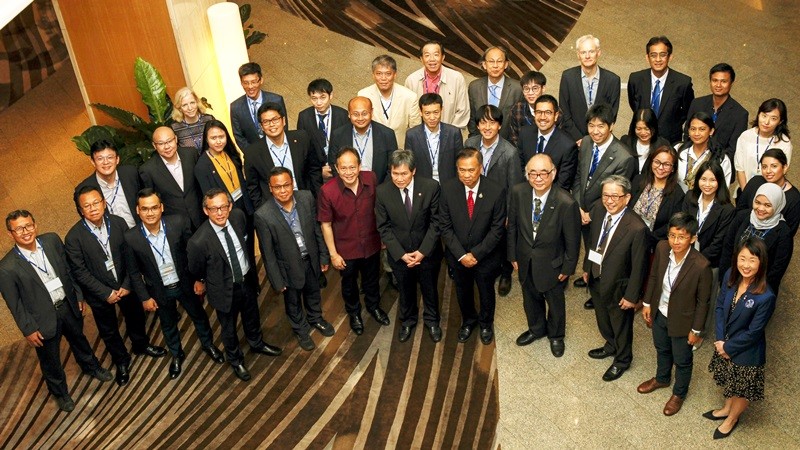 Bangkok, 6 October 2019: ASEAN Vision 2040 and the ASEAN Outlook on the Indo-Pacific were among the topics of discussion during a recent meeting of editors and senior journalists from across ASEAN and East Asian countries held by the Economic Research Institute for ASEAN and East Asia (ERIA). The 8th ERIA Editors' Roundtable was held on 6 October 2019 in Bangkok, in cooperation with Bangkok Post.
Prof Hidetoshi Nishimura, President of ERIA, welcomed the participants and talked about the process behind the creation of the ASEAN Vision 2040, ERIA's flagship publication for 2019.
'Last year, the Thai chair asked ERIA to come up with a report that would look into the future of ASEAN over the next 20 years. So, ERIA immediately put together a team of 60 experts from the Indo-Pacific region to prepare for this report. They met and discussed several times and within 12 months, they came up with a four-volume of insights and a full range of recommendations that will further consolidate ASEAN. The ASEAN leaders commended our four-volume ASEAN Vision 2040 at the Chairman's Statement of the 34th ASEAN Summit on June this year,' said Prof Nishimura.
Several contributors to the report, including Prof Simon Tay, the Chairman of Singapore Institute of International Affairs, and Dr Shiro Armstrong, Director of the Australia-Japan Research Centre in the Australian National University, participated in the Roundtable as speakers and discussed the future trends of ASEAN.
'Today's roundtable is the eighth. ERIA will continue to serve as a bridge between the media and the ASEAN Community. Media has a pivotal role to play to increase awareness and understanding of the ASEAN citizens. They need to know all kinds of benefits that the ASEAN Community would be able bring to the 650 million strong community,' Prof. Nishimura added in closing.
H.E. Mr Vijavat Isarabhakdi, Vice Foreign Minister of Thailand, and Dr Suriya Chindawongse, Director General of ASEAN Affairs in the Ministry of Foreign Affairs of Thailand also delivered their remarks.
During lunch, Prof Sakon Varanyuwatana, Chairperson of the Trade Competition Commission of Thailand and ERIA's Governing Board Member, shared his perspectives about the region's preparation for the fourth Industrial Revolution and its impact on ASEAN countries on his keynote speech.
ASEAN Secretary General, H.E. Dato Lim Jock Hoi presented a brief overview of the current condition of ASEAN countries. The question and answer session that followed was very lively thanks to the wide-ranging questions from the journalists and the candid answers from Dato Lim.
Group photo by Watcharawit Phudork (Bangkok Post)
Image Gallery
CHOOSE FILTER