EAS Foreign Ministers' Consultation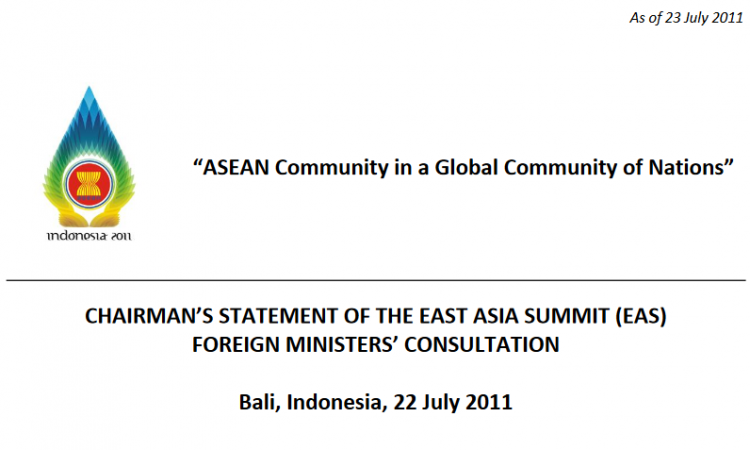 The Foreign Ministers of countries represented in the East Asia Summit (EAS) met on 22 July 2011 in Bali, Indonesia. The EAS Foreign Ministers' Consultation was chaired by Dr. R. M. Marty M. Natalegawa, Minister for Foreign Affairs of the Republic of Indonesia. The Ministers made remarks welcoming the first participation in the annual meeting by their U.S. and Russian counterparts.
The Ministers appreciated ERIA's contribution in the Chairman's Statement (paragraph 6) as below.
6. The Ministers discussed ways and means in deepening regional economic integration through the concurrent studies of Comprehensive Economic Partnership in East Asia (CEPEA) and East Asia Free Trade Area (EAFTA). The Ministers also reaffirmed the need to enhance economic cooperation based on knowledge, innovation, development strategy, promoting connectivity for both ASEAN and EAS countries, and to intensify efforts in narrowing development gaps with appreciation for the contribution of the Economic Research Institute of ASEAN and East Asia (ERIA)
To reach the whole Chairman's Statement of the EAS Foreign Ministers' Consultation, please click on the following PDF file.
2011_0722_Chair Statement EAS Foreign Ministers Consultation.pdf
CHOOSE FILTER