Developing an Agricultural Value Chain in the Mekong Region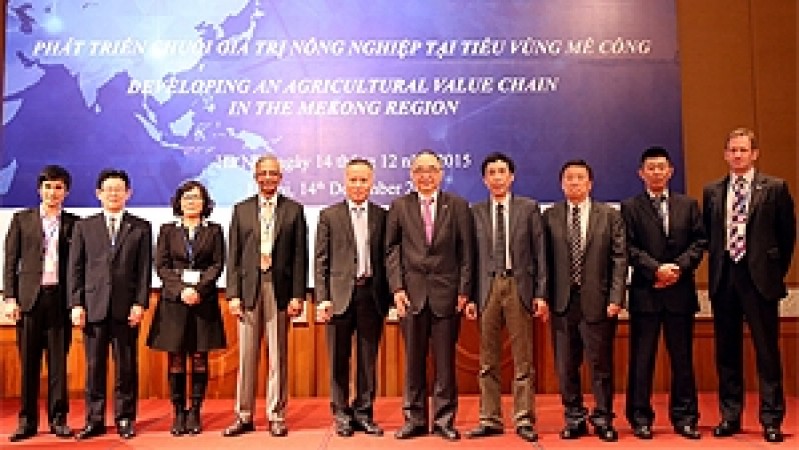 Monday, 14 December 2015 - Sheraton Hanoi Hotel, Ha Noi, Viet Nam
World experts from business and academia met today for a half-day National Policy Dialogue Forum and discussed agricultural value chains in the Mekong region.
The event was co-organised by the Ministry of Industry and Trade, Socialist Republic of Viet Nam, and the international research organization (ERIA Economic Research Institute for ASEAN and East Asia), located in Jakarta, Indonesia.
The opening comments were made by H.E. Mr Tran Quoc Khanh, Deputy Minister, Ministry of Industry and Trade, Viet Nam and the key note speaker was Prof. Sisira Jayasuriya, Director of the Centre for Development Economics and Sustainability and Professor of Economics at Australia's Monash University. They discussed how regional and global economic developments, together with pressures on the natural resource base, are opening up huge opportunities but also posing major challenges for agriculture in the Mekong region.
Prof. Jayasuriya indicated that the importance of this Forum is that it brings together two complementary domains; agriculture and trade. These domains are also to be linked with the transport issues in order to have overview of the huge potential of agriculture in the Mekong region.
There were two panel discussions, the first one by Dr Vo Tri Thanh, Central Institute for Economic Management, Viet Nam together with Dr Tran Cong Thang, Vice Director General, Institute of Policy and Strategy for Agriculture and Rural Development, Development (IPSARD), Viet Nam and Prof. Sisira Jayasuriya (Centre for Development Economics and Sustainability and Monash University, Australia). They discussed issues such as agricultural restructuring, the need to link domestic firms and farmers with export destinations as well as branding.
The second panel, on which all speakers were from the private sector, illustrated business perspective on how to develop an agri-business oriented Mekong region. Panelists discussed various issues including procurement policies (Mr Will Mackereth, Supply Chain Director, Nestle Vietnam Ltd), the role of supermarkets in meeting the demand for quality produce (Mr Fumio Seo, General Manager, AEON Vietnam Co. Ltd), logistics and connectivity (Mr Atsushi Nagashima, General Director Nippon Express Vietnam co. Ltd) as well as the importance of branding for agricultural products (Ms Nguyen Hien, Export Director, VinEco Agricultural Investment).
Embracing globalisation and modernisation, enhancing the development of agricultural value chains, while ensuring that necessary measures are taken so that the small farmers, SMEs and domestic consumers get their fair share of the benefits were the key points raised. We can not go back to the past, it is not an option.
The President of ERIA, Prof. Hidetoshi Nishimura made a welcome speech, while Dr Vo Tri Thanh (Vice President, Central Institute for Economic Management, CIEM, Vietnam) and Dr Hank Lim (Chairperson of ERIA's Academic Advisory Council) summarized lessons learned and policy implications (agenda enclosed below).
Agenda
Click here for the agenda.
CHOOSE FILTER