Deepening Cooperation between ERIA and Parliamentary Members of ASEAN Member States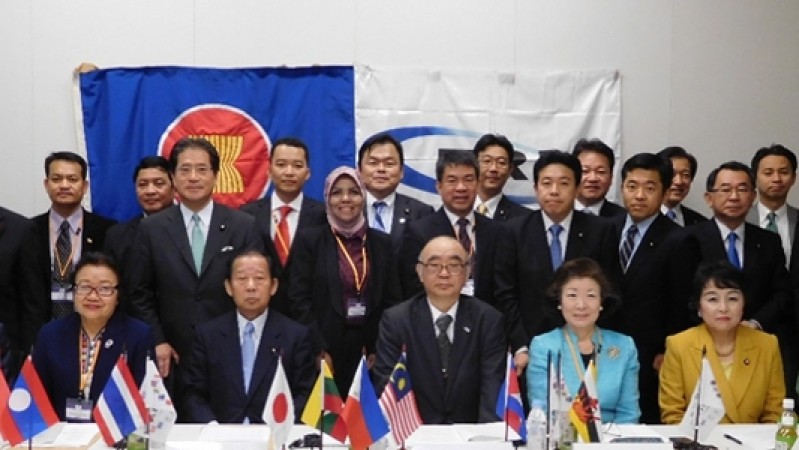 On 13 April 2016, ERIA organised a meeting between the Parliamentary League for ERIA (PLE) and Parliamentary Members of ASEAN Member States (PMAs) in Tokyo, Japan to establish a cooperative network between the two bodies.
Highlighting the necessity of establishing a platform for communication between ERIA and PMAs, this event was held on the sidelines of the meeting of the Organization of Economic Co-operation and Development (OECD) Global Parliamentary Network.
In his opening remarks, H.E. Mr Toshihiro Nikai, Chairman of the PLE, stated that the meeting aimed to discuss the future development of ASEAN. H.E. Mr Yasuhisa Shiozaki, Deputy Chairman of the PLE and Minister of Health, Labour and Welfare of Japan, added 'We should learn from each other for the peace and stability of ASEAN and East Asia'. The PLE proposed that the PMAs endeavour to share ERIA's research and policy recommendations with the ASEAN Inter-Parliamentary Assembly (AIPA) and other relevant parties.
Participants acknowledged the important role of ERIA as a policy think tank and its contribution to the prosperity of ASEAN and East Asia. In this respect, they agreed to cooperate with ERIA to act as focal points in sharing ERIA's research outcomes and policy recommendations with PMAs and AIPA and related meetings.
This meeting marks the second time ERIA has met with the Parliamentary Members of Japan and ASEAN Member States since they assembled last November.
Discussion Points
CHOOSE FILTER