Cambodian Finance Officials Join Training on Collecting Non-Tariff Measures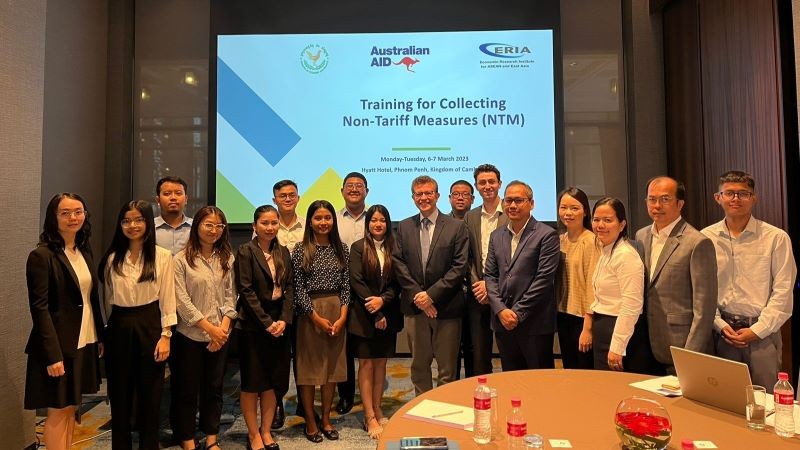 Phnom Penh, 6–7 March 2023: Cambodia's Ministry of Economy and Finance (MEF) officials have taken an active step towards improving international trade by participating in a training programme on collecting non-tariff measures (NTMs). The Capacity Building Program of the Economic Research Institute for ASEAN and East Asia (ERIA), in partnership with MEF, organised the training that was attended by 16 participants.
The training noted that in the past decade, substantial reductions in tariffs have been achieved through trade negotiations and unilateral liberalisation. However, exporters now face a growing challenge due to the increasing prominence of NTMs. These measures, often defined as 'policy measures beyond customs tariffs', can potentially have an economic impact on international trade in goods and their quantities traded. Compliance with these regulatory trade measures has become a prerequisite for exporters to reap benefits from market access. To comprehensively understand the impact of NTMs on international trade, a systematic collection of data on them is required.
The 2-day training focused on defining and understanding NTMs, including their role and intent, principles, rules, and data collection. Led by ERIA Economist Dr Doan Thi Thanh Ha and ERIA Research Associate Mr David Christian, the training also included a presentation on Good Regulatory Practice by Dr Oum Sothea, Executive Director of the Center for Strategy and Innovation Policy.
Opening the training, Mr Jeremy Gross, ERIA Director of Capacity Building, and Mr Uy Rithymony, MEF's Director of Economic Integration and ASEAN Department, emphasised the importance of comprehensive data collection to ensure the smooth flow of essential goods and resolving noncompliance, including non-tariff barriers. Mr Ayden O'Neill, Second Secretary at the Australian Embassy in Cambodia, noted that trade and investment are key to Cambodia's post-economic recovery and long-term prosperity to leapfrog for the high-income status by 2030.
The ERIA Capacity Building Program is supported by the Government of Australia.
Related Articles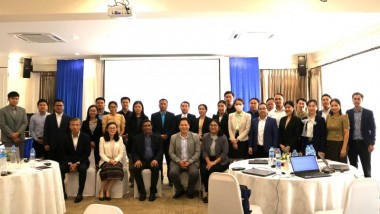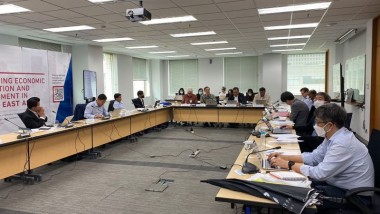 CHOOSE FILTER