Boao Forum for Asia Annual Conference 2011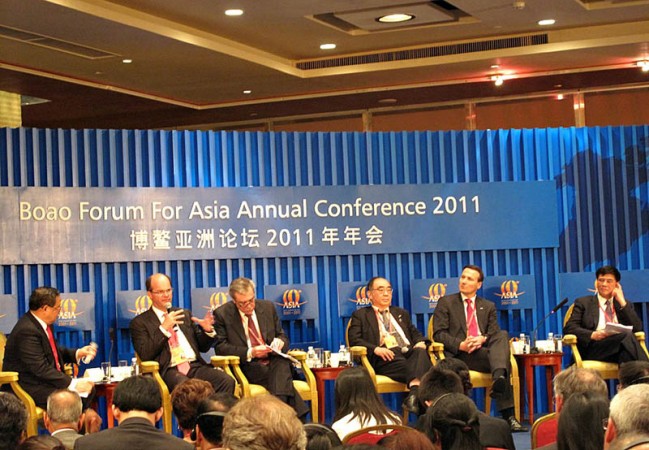 The Boao Forum for Asia Annual Conference 2011 was held in Boao, Hainan Province, China from 14 to16 April 2011. The main theme of this year was "Inclusive Development: Common Agenda & New Challenges".
It was opened by President of China, Mr. Hu Jintao. Other heads of states and government leaders, prominent people in business and political community of the world also attended the forum.
Mr. Hidetoshi Nishimura, Executive Director of ERIA, attended the forum as a panelist for the session "Global Shift of Industries: What`s Next ?". Mr. Nishimura pointed out some key issues by sharing the observation on the global shift of economic activity from the viewpoint of East Asia. Regarding Inclusive Growth, Mr. Nishimura highlighted that enhancement of production networks which ERIA proposed in the CADP is a useful measure for simultaneous achievement of deepening economic integration and narrowing development gaps.
In this session, Mr Nishimura was together with Mr. Victor FUNG (Chairman, The Li and Fung Group), Mr. Frederico Pinheiro Fleury CURADO (President and CEO, Embraer, Brazil), Mr. Carlos GUTIERREZ (The 35 Secretary of Commerce, USA), Mr. Patrik WOHLHAUSER (Chairman of the Board, Evonik Degussa Gmbh) and Mr. Zhang Xiaoqi (Vice Chairman, National Development and Reform Commission, China).
On this occasion, Mr. Hidetoshi Nishimura met with Mr. Wang Yi, Minister of China and Taiwan Relations (Photo 3). Mr. Nishimura recalled Taiwan's strong interest in ERIA. The Minister expressed a deep understanding of cooperation between Taiwan and ERIA.
On16 April, Mr. Nishimura had a Special Breakfast Session with Hon Bill English, Deputy Prime Minister of New Zealand (Photo 4). They exchanged views on the progress of ERIA since its establishment.
CHOOSE FILTER