Best Practices in Nuclear Regulatory Framework Discussed at IEEJ-ERIA Symposium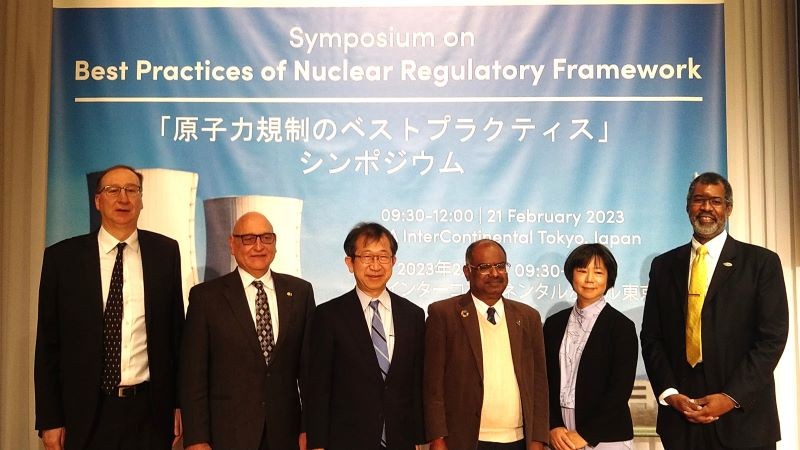 Tokyo, 21 February 2023: The Institute of Energy Economics, Japan (IEEJ) and the Economic Research Institute for ASEAN and East Asia (ERIA) held a symposium on Best Practices of Nuclear Regulatory Framework at the ANA InterContinental in Tokyo, Japan. The event was attended by a diverse group of nuclear experts and practitioners from Japan and other countries, including those from ERIA who participated in person. The symposium was geared towards learning about the global trend in the nuclear industry and the necessary regulatory framework needed to ensure nuclear safety.
Opening the symposium, Prof Tatsuya Terazawa, Chairman and CEO of IEEJ, noted that only ten nuclear plants have resumed operations since the Fukushima Daiichi nuclear power plant accident occurred 12 years ago. He expressed keen interest in three things that he hoped would be raised in the symposium. First is the knowledge transfer of practitioners outside Japan on the role of regulatory framework in facilitating the resumption of the nuclear power plants. Second, he underscored that nuclear energy is crucial to realising carbon neutrality, although he noted that Japan has relatively low capacity factors compared to other countries. He added that he was interested in investigating how to improve the capacity factors of nuclear energy in Japan. Third, Prof Terazawa also expressed a desire to learn from overseas experts about best practices in communication to establish mutual understanding between the Nuclear Regulation Authority and other stakeholders, including municipalities, local citizens, and operators to promote nuclear energy as safe energy source.
Mr Kunie Taie, Group Manager at the General Planning Group of IEEJ, led the symposium, which featured three presentations and a question-and-answer (Q&A) session.
Mr William Magwood, Director General of the OECD Nuclear Energy Agency, gave the first presentation, discussing how to improve nuclear regulatory effectiveness from NEA's experience and perspectives. He acknowledged that transitioning to nuclear energy is a topic that is gaining more attention worldwide. He stressed that having a strong, independent regulatory organisation is crucial for any country that plans to invest in or expand its nuclear energy programme. He then provided an overview of NEA, an agency under the Organisation for Economic Co-operation and Development (OECD) that aims to provide countries with the necessary information to make informed decisions about nuclear energy. He concluded his presentation by outlining the characteristics of an effective regulatory body, including appropriate expertise and resources to provide facility surveillance whilst responding to new knowledge and technology in a balanced manner; multidimensional communications with stakeholders that foster mutual trust, regulatory effectiveness, and productive relationships; well-defined and transparent safety standards and requirements, developing reproducible framework for determining safety significance; and engagement and transparency with global stakeholders and local communities.
Presenting the second topic of the symposium, Mr Ramzi Jammal, Executive Vice-President and Chief Regulatory Operations Officer of the Canadian Nuclear Safety Commission Canada (CNSC), discussed Canada's nuclear industry regulations and emphasised the importance of public trust in the industry. He explained that indigenous engagement is a crucial aspect of CNSC's engagement activities. He then detailed the CNSC's regulatory framework, consisting of four building blocks: the Nuclear Safety and Control Act (NCSA); Regulations; Licences, Licence Conditions Handbook, Certificates; and Regulatory Documents. Mr Jammal stressed the importance of risk-informed approach to implementing the regulatory framework. He highlighted the need for a culture change within the regulatory body to fully comprehend what defines risks, and evaluate safety perspectives effectively.
Mr Robert Campbell, former Senior Nuclear Safety Regulator of the Office for Nuclear Regulation in the United Kingdom, delivered the third presentation, where he focused on the regulatory approach used in the UK for nuclear safety. He explained that the approach is a non-prescriptive framework that prioritises goal-setting, flexibility, and transparency. The framework, he elaborated, includes 36 standard licence conditions and other laws. Mr Campbell underlined the importance of early engagement between regulatory bodies and licensees to identify and resolve any emerging issues. He also called for effective communication with the public, highlighting the importance of establishing stakeholder groups that act on behalf of the safety authority. He added that the site stakeholder groups will serve as the focal point and are expected to engage with the public regularly to address­­­ any concerns or queries.
During the Q&A session, several questions were raised, including how to balance adapting appropriate regulations to ensure nuclear energy safety objectives are met whilst also fulfilling the capacity factor. All speakers gave insightful answers, stressing that safety objectives should be paramount and incorporate reasonable expectations for operators to achieve desirable capacity factors. To implement this, they agreed that approaches that rely on judgement and probabilistic safety assessment are vital. The Q&A session was moderated by Ms Tomoko Murakami, Senior Economist and Group Manager of the Nuclear Energy Group of IEEJ.
Closing the symposium, Dr Venkatachalam Anbumozhi, Director of Research Strategy and Innovation, ERIA, affirmed the critical role of nuclear energy in assisting countries, particularly Japan and ASEAN Member States, in decarbonising power sectors and achieving their net-zero targets. He stressed the need to overcome barriers in the nuclear policy framework and restore public acceptance following the repercussions of the Fukushima Daiichi nuclear power plant accident. To address these challenges, ERIA and IEEJ have collaborated on several strategies aimed at restoring public acceptance of nuclear energy in the region.
Presentation materials can be downloaded here
Image Gallery
Related Articles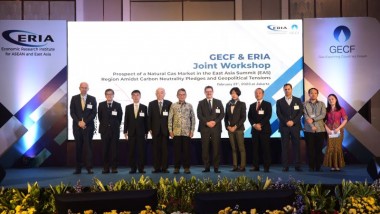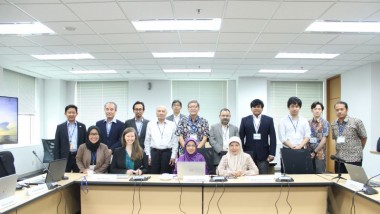 CHOOSE FILTER