ASEAN in the Korean Spotlight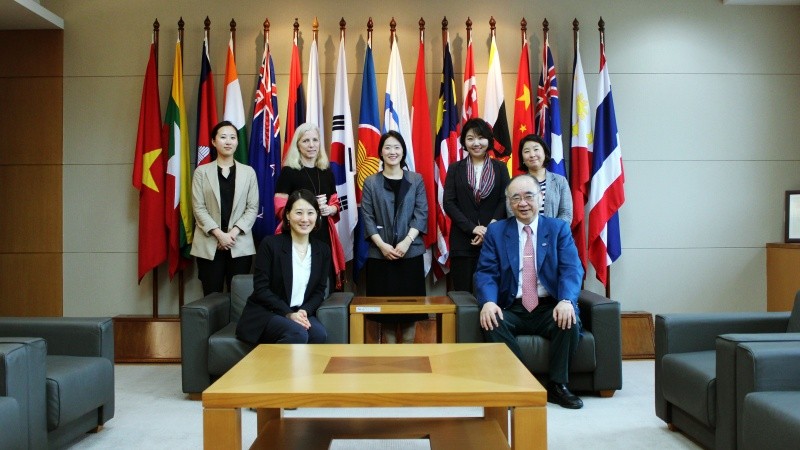 Jakarta, 31 January 2020: The year 2019 marked the 30th anniversary of ASEAN-Korea Dialogue Relations as well as the 10th Anniversary of the ASEAN-Korea Centre (AKC). As the only intergovernmental organisation mandated to promote economic and socio-cultural cooperation between ASEAN and Korea, the AKC strives to continue playing a pivotal role in building a lasting and genuine partnership between the two sides.
Recognising the strong networks and relations that ERIA has established across the ASEAN region, AKC visited ERIA's offices, first meeting with President Hidetoshi Nishimura to extend greetings from Mr Lee Hyuk, the Secretary General of AKC. The AKC delegation consisted of four members of the Information and Data Unit, Ms Kim He-jin (Head), Ms Kim Su-youn (Deputy Head), Ms Ahra Cho (PR Officer) and Ms Kim Go-wun (Senior Officer) as well as Ms Kim Yeon-jeong (Senior Officer of the Development Planning and General Affairs Unit).
Following the courtesy call, the AKC team met with ERIA staff including Koji Hachiyama (Chief Operating Officer), Taizo Hara (Director General for Research and Policy Design), Jeremy Gross (Director of Capacity Building), Dr Giulia Ajmone Marson (Strategy and Partnership Director), and Lydia Ruddy (Director of Communications).
The discussion centred on ways that the two organisations could support one another, mostly with outreach activities. Of particular interest was the current research and policies on digital economy, the economic outlook for ASEAN, and trade between ASEAN and Korea – especially promoting an 'ASEAN Wave' in Korea.
AKC would like to invite ERIA researchers to present their findings at their events later this year. They are also interested in different ways to engage ASEAN media as well as promoting ERIA's research findings through their outreach activities.
Image Gallery
Related Articles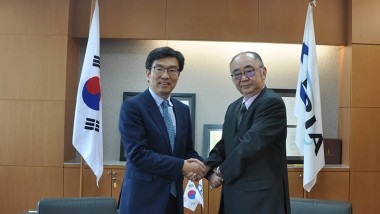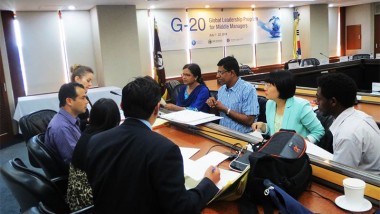 CHOOSE FILTER