APEN "Only One" SME Mission in Cambodia was Carried Out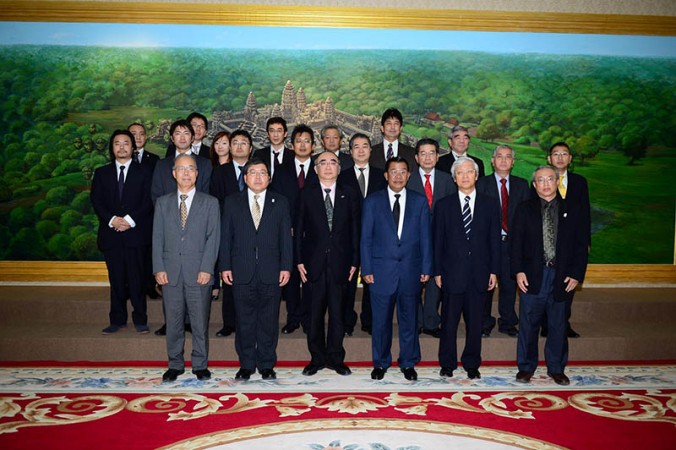 Asia Professional Education Network (APEN) "Only One" Small Medium Enterprises (SME) Mission in Cambodia was conducted on January 13-16, 2013 in Phnom Penh, Cambodia.
It was led by the president of Advanced Institute of Industrial Technology (AIIT), and supported by Economic Research Institute for ASEAN and East Asia (ERIA) and Japan External Trade Organization (JETRO) Phnom Penh. The 15 delegates from selected 12 Japanese SMEs participated in this mission.
"Only One" SME is an enterprise which has world leading high technology in specific areas. 12 companies were selected by APEN from those SMEs which have an interest in investment and business expansion in Cambodia. APEN is an international association established in June 2011. It aims at the development and diffusion of the new system of higher professional education based on the PBL (Project Based Learning) methodology all over Asia, in order to provide and nurture substantial numbers of qualified top and middle managers in Asian industrial sectors. The Selected 12 SMEs are enterprises which have high technical competencies in various industrial areas, namely: high processing technology for auto parts, environment, jewelry products, agricultural, infrastructure, and etc.The Mission took place for four days consisting of series of events, such as visiting special economic zone (SEZ) of Manhattan, Tai Seng, and Phnom Penh, some companies in SEZ area, industry-government-academia workshop, and business matching between Japanese and Cambodian SME.
The delegation had an opportunity to make a courtesy visit to H.E. Samdech Akka Moha Sena Padei Techo Hun Sen, Prime Minister, Kingdom of Cambodia, on January 15, 2013 at Peace Palace, Prime Minister's office. Prof. Hidetoshi Nishimura, Executive Director of ERIA, expressed his sincere appreciation to Prime Minister Hun Sen and introduced each SME company. Prime Minister encouraged each SME company and expressed expectations of their successful investment to Cambodia in the near future. On the same day, the delegates also made another courtesy visit to H.E. Mr. Sok Chenda Sophea, Minister Attached to Prime Minister, Secretary General of the Council for the Development of Cambodia and H.E. Dr. Hang Chuon Naron, Secretary of State of the Ministry of Economy and Finance of Cambodia. Each company presented for their business to H.E. Mr. Sok Chenda Sophea and H.E. Dr. Hang Chuon Naron. The delegation and the Ministry discussed the importance of the SME developments in the region and future investment to Cambodia.
The Mission was concluded with the workshop on "Connectivity of SMEs between Cambodia and Japan" at Institute of Technology of Cambodia (ITC) on January 16, 2013. It was co-organized by ITC and APEN. In this event, the Japanese and Cambodian SMEs shared information related to their business and renewed their awareness of importance of the relationship between the Japanese and Cambodian SMEs for their future business.
To reach the press release, please click on the following pdf file:
CHOOSE FILTER