Advances in Science and Technology Will Save Lives – Prof Nishimura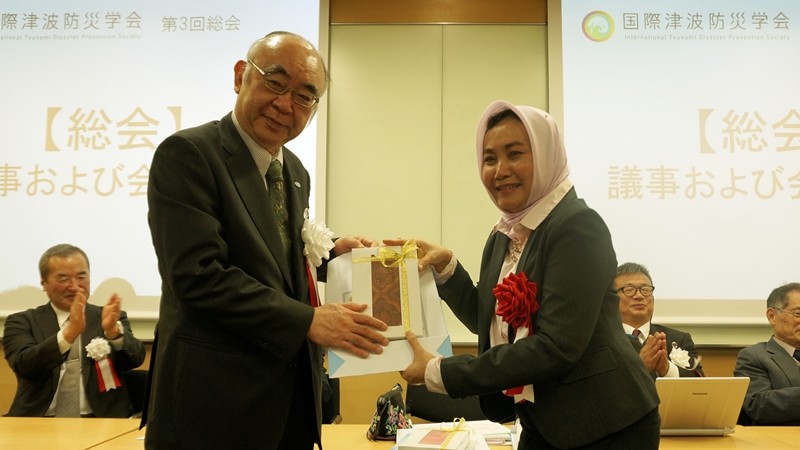 Tokyo, 6 November 2019: Prof Hidetoshi Nishimura, President of ERIA, participated in the 3rd General Assembly Meeting of International Tsunami Disaster Prevention Society chaired by Prof Akiko Yamanaka, Special Advisor to the President of ERIA. ERIA co-hosted the event.
The Meeting addressed (1) the international framework for the development of a mitigation/recovery plan for tsunami disasters, (2) exploration of the generation of tsunamis and their relation to submarine landslides in past tsunami disasters including those associated with the 2018 Sulawesi earthquake, the 2004 Sumatra-Andaman earthquake and the 2011 Great East Japan earthquake and (3) the miscellaneous business of the Society, such as the approval of the fiscal report of the last year, the budget plan for the new year, and the activity report.
Prof Yamanaka, in her opening remarks, presented lessons learned from disasters, the importance of raising awareness, improving legislation, and building infrastructure. She also stressed the importance of ensuring the resilience of society.
In his remarks, Prof Nishimura emphasized that we must be prepared at all times as disasters are not a special event. He asserted that advances in science and communication technology, such as improvement of the accuracy of natural disaster prediction and forecasting and early warning system, could save many lives from disasters.
ERIA invited Prof Dwikorita Karnawati, Ph.D, Head of the Indonesia Agency for Meteorology, Climatology and Geophysics, who gave a keynote speech titled 'The Indonesian Tsunami Mitigation Challenges and the Strategic Innovation.' She introduced the history of the Indonesian Tsunami Early Warning System whose development was based on the experiences of several earthquakes and tsunamis, including challenges discovered in the Palu Tsunami 2018. She emphasized that public education is key to minimizing damage. She also stressed that the active role of local authorities is crucial to sustain the effectiveness of public education and disaster mitigation actions. She added that an appropriate legal framework for the existing Tsunami Early Warning System is urgently required to ensure its effectiveness.
ERIA also invited Dr Ade Kadarusman, President Director of PT AKA Geosains Consulting, as a speaker of the Academic Session. His presentation 'Palu Submarine Landslide Tsunami on 28 September 2018: Evidence from Geological and Gravity Instabilities,' focused on submarine research on the Palu Bay floor after the earthquake. He proposed a comprehensive study of the hazard map in addition to the seismic distribution map to understand the distribution of potential submarine landslides that cause tsunamis. He also proposed a disaster prevention project.
The International Tsunami Disaster Prevention Society was established on 11 November 2017 to improve interdisciplinary and international research aimed at reducing or eliminating the loss of life and property due to tsunami. Prof Yamanaka was assigned as the President of the Society in 2018 to encourage international activities.
Image Gallery
Related Articles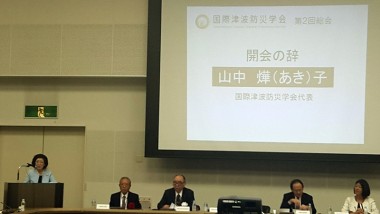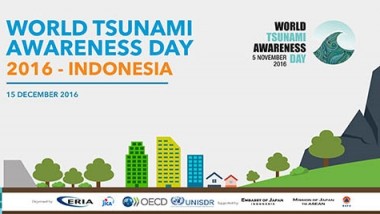 CHOOSE FILTER