Addressing CO2 Emissions in Asia: CCUS Network Launched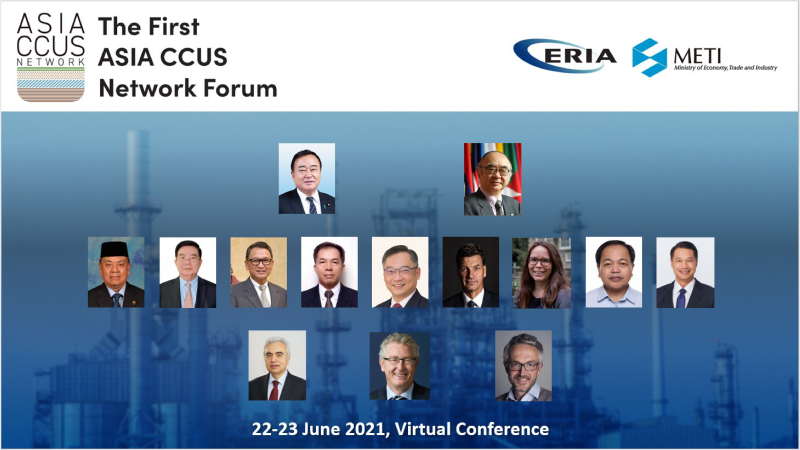 Jakarta, 22 June 2021: Prof Hidetoshi Nishimura, President of Economic Research Institute for ASEAN and East Asia (ERIA), jointly with Mr Hiroshi Kajiyama, Minister of Economy, Trade and Industry of Japan (METI), announced the launch of the Asia CCUS Network - an international industry-academia-government platform for knowledge sharing and improvement of the business environment for utilization of carbon capture, utilization, and storage (CCUS) throughout the Asia region. Thirteen EAS member countries and more than 100 companies, research institutions, and international organizations have so far expressed their intention to participate in the network.
According to the International Energy Agency (IEA), CCUS may account for nearly 15% of the cumulative reduction in global emissions to achieve carbon neutrality. According to the Global CCS Institute, each of the ASEAN countries has storage capacity of over 10 billion tons. Furthermore, 'The opportunity for CCUS in Southeast Asia', a special report recently released by the IEA in April, states that CCUS will play a significant role in the Southeast Asian region, where demand for fossil fuels will remain high. CCUS is expected to capture around 35 million tons in 2030, over 300 million tons in 2050, and over 600 million tons in 2070. To achieve this level of CCUS deployment requires an estimated investment of more than US$1.2 billion per year until 2030.
To address these challenges, METI and ERIA launched the Asia CCUS Network at a special forum on June 22 and 23, 2021. This forum provided the most up-to-date information about countries that have already started CCUS demonstration projects including the United States, Australia, Japan, and the Republic of Korea. With government support and the involvement of all stakeholders, CCUS technology can become commercially viable and scalable and therefore attract investment from private companies around the world.
In his keynote address, Prof Hidetoshi Nishimura reiterated the vision of the Asia CCUS Network that aims to contribute to the decarbonisation of emissions in Asia through collaboration and cooperation on development and deployment of CCUS. The mission of this network is to facilitate deployment of CCUS through (i) promoting knowledge sharing through holding an annual forum, conferences, workshops, and meetings; (ii) conducting research studies on technical, economical, and legal standards of CCUS in the EAS region; and (iii) holding capacity building training workshops to bridge the knowledge gap on CCUS. Prof Nishimura also added that the Asia CCUS Network Forum provides opportunities for countries in the region to collaborate on low emission technology that will help to build countries' capability to lower the cost of CCUS.
During the discussions, three key issues were raised by policymakers and experts about the development and deployment of CCUS technology. First, there is a need for countries to create a favourable policy environment to facilitate the development and deployment of CCUS, especially about the development of a CCUS business model that private companies will need to invest in. Second, it is very important that countries will collaborate to build the CCUS value chain in terms of matching emissions, transportation, and storage capacity. Third, the price of CCUS technology will need to come down to a level that can be afforded by many countries.
The forum was attended by honourable Ministers from Brunei Darussalam, Cambodia, Indonesia, Lao PDR, Philippines (proxy), Singapore, Thailand (proxy), Australia, and the United States who expressed their congratulations for the launch of the Asian CCUS Network. They also sent a strong supporting message to the leadership of METI and ERIA for setting up the Asia CCUS Network Forum. It will serve as a platform for collaboration on low emission technology that will eventually accelerate the deployment of CCUS to achieve carbon neutrality in Asia.
Day 1 - 22 June 2021: Launching Session
Opening Address
Ministerial Remarks
Keynote Speeches
Discussion Session

Moderated by Mr Shigeru Kimura, Special Advisor on Energy Affairs, ERIA | click to download presentation

Dr Saleh Abdurrahman, Senior Advisor on Environment and Spatial Planning, Ministry of Energy and Mineral Resources
(MEMR), Indonesia | click to download presentation

Mr Jesus Tamang, Director of Energy Policy and Planning Bureau, Department of Energy (DOE), Philippines | click to download presentation

Mr KAWAGUCHI Yukihiro, Director of Global Environment Affairs Office, Industrial Science and Technology Policy and Environment Bureau, Ministry of Economy, Trade and Industry (METI), Japan

Dr Mohammad Rachmat Sule, Senior Lecturer, Bandung Institute of Technology (ITB), Indonesia | click to download presentation
Day 2 - 23 June 2021
Report on the Working Plan of the Network in 2021-22 and 2022-2025, by Dr Han Phoumin, Senior Energy Economist of ERIA, the Asia CCUS Network Secretariat

Japan's CCUS showcase in the Asia region
Panel Discussion 2 - Promoting private sector investment into CCUS projects in ASEAN region, and expectations to the government.
Moderated by Dr. Tony Zhang, Senior Client Engagement Lead, Global CCS Institute
Panel Discussion 3 - Financing Scheme for Deployment of CCUS in Asia Moderated by Ms Kikuko Shinchi, Senior Researcher, Climate Change Solutions Group, Sustainable Division, Policy Consulting Unit, Mitsubishi Research Institute (MRI) | click to download presentation
Related Links:
Related Articles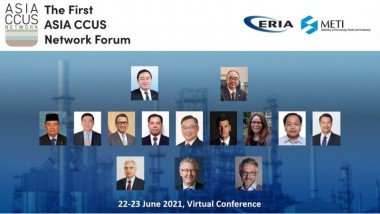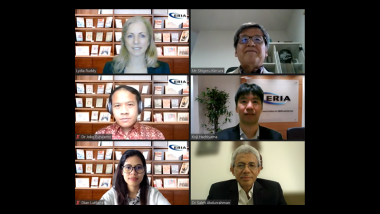 CHOOSE FILTER