Activating Institutional Investors for Sustainable Infrastructure Finance in Asia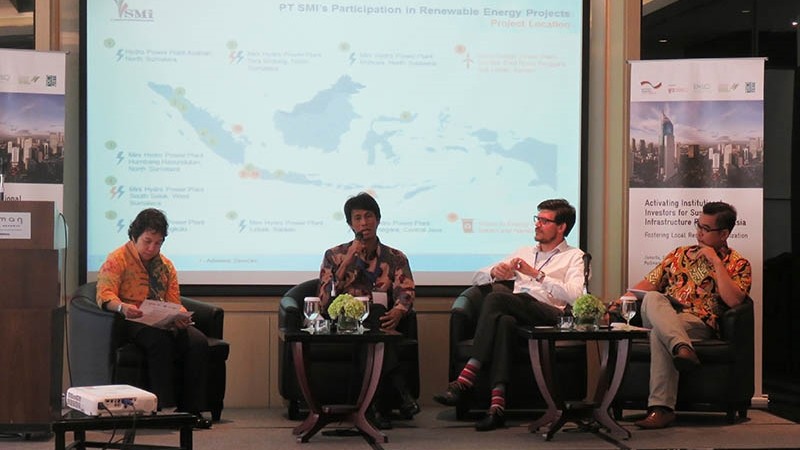 A number of Asian and European senior experts including regulators, financial institutions and think tanks gathered on 24 November 2016 in Jakarta for a roundtable discussing innovative tools to foster sustainable infrastructure investments in Asia with an objective to apply the innovative tools and solutions to the Indonesian context.
The roundtable was jointly organised by GIZ, Emerging Market Sustainability Dialogues (EMSD), Centre for European Policy Studies (CEPS), Global Infrastructure Basel (GIB), and the Economic Research Institute for ASEAN and East Asia (ERIA).
The opening remarks were made by Johannes Kerner, Deputy Head Economic Affairs of the Embassy of the Federal Republic of Germany, and Shigeki Kamiyama, Managing Director for Research Affairs of ERIA. Kerner emphasised the need for sustainability standards that should achieve two things: to make infrastructure projects sustainable and to generate private capital that is needed to close the gaps in infrastructure financing. Kamiyama described how the domination of banking sector in financing infrastructure projects creates a challenge in Asia since banks have constraints, especially on liquidity requirements, which makes it difficult for them to act as long term investors. Therefore, strengthening capital markets and attracting institutional investors are crucial for infrastructure project financing.
Edwin Syahruzad, Director of Financing and Investment of PT Sarana Multi Infrastruktur (PT SMI), gave a keynote speech discussing challenges to attract private investors in Indonesia, including the character of investment that is most likely in greenfield projects rather than brownfield, land acquisition issues, the importance of project preparation and project readiness, as well as the need for government guarantee and supports. Dr Hans-Peter Egler, CEO of GIB, added that a big know-how gap in designing of infrastructure projects, particularly at the local government level, is also a challenge in Indonesia. Overcoming this challenge will require a systematic approach in designing sustainability of infrastructure projects, a common understanding between stakeholders on sustainability, and clear monitoring as well as clear instruments and rating systems.
There were three panel discussions, the first one by Ricco Zhang, Director Asia Pacific of International Capital Market Association (ICMA), together with Willem Pieter de Groen, Research Fellow of CEPS, and Dr Fauziah Zen, Economist of ERIA. The discussion focused on the role of institutional investors in Indonesia and Asia. Zhang explained the importance of the green bond instrument, Groen pointed out the need to look for alternatives to financing instruments to meet the huge need of infrastructure, and the importance of financial diversification in Indonesia which is currently still dominated by banking sector, and Dr Zen discussed the bond market development in Indonesia. She mentioned that the Indonesian market is still relatively young and underdeveloped with young institutions. Nevertheless, it has immense potential despite the many obstacles that need to be addressed. Some initiatives have been launched, including changing the BI policy rate to a 7-day reverse repo rate. However, more efforts need to be made such as increasing regulatory capacity, aligning fiscal incentives for more long-term investment and broadening the investor base. She also described the interdependence of different elements in infrastructure industry; not only financing, but also institutional and construction elements, as well as the importance in seeing how they interact and how efficiently they can conduct transactions.
The second panel demonstrated the business case of sustainable infrastructure to institutional investors. The speakers were Davide Stronati, Global Sustainability Leader of Mott MacDonald, who provided insights on how to reduce total lifecycle costs of infrastructure projects through sustainable behaviour, Warut Promboon, Chief Rating Officer of Dagong Credit Rating, explained how to quantify sustainability through credit rating tools, and Hanah Paik, Cities Programme Asia Pacific Lead of Carbon Disclosure Project emphasised the importance of working with subnational governments on monitoring sustainability of infrastructure projects, and the necessity to increase dialogues and connect cities and regional government with other stakeholders including investors.
Edwin Syahruzad from PT SMI, James Alexander, C40, Head of Finance of Toronto Urban Climate Solutions, and Dr Mohammed Ali Berawi, Executive Director of Center for Sustainable Infrastructure Development, Universitas Indonesia discussed the issue of applying sustainable infrastructure finance to Indonesia on the last session of panel discussion. Syahruzad described the contribution of PT SMI to renewable energy activities and projects. He mentioned that improving access to financing, especially for small developers, is crucial. Alexander talked about environmental sustainability in the cities and urban areas, as well as the potentials and challenges for cities in conducting actions to address climate change. Dr Berawi mentioned the challenges facing Indonesia and other ASEAN countries on accelerating infrastructure development. He put emphasis on the importance of properly prepared and well-planned projects in Indonesia.
Large infrastructure projects have significant impacts on the society, not only economically, but also socially and environmentally. Making infrastructure investments sustainable will bring benefits to the whole society. The seminar raised the importance of sustainability standards and tools, including green bonds and other green finance tools, as well as sustainability credit rating tool. Making these tools and solutions available for policymakers and aligning them with the efforts to maximise the existing initiatives is the next step.
CHOOSE FILTER