A Spirit of Idealism or Pragmatic Global Discourse? What to Expect from India's G20 Presidency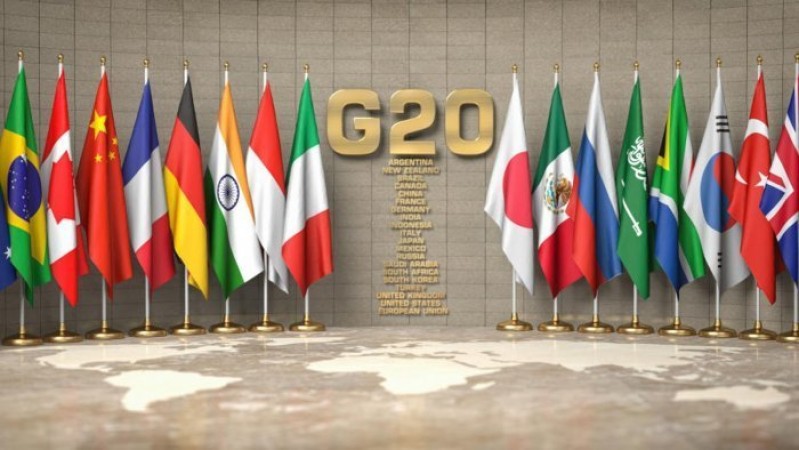 By Dr Venkatachalam Anbumozhi, Director of Research Strategy and Innovation: India inherited the Group of Twenty (G20) presidency from Indonesia on 1 December 2022 and will convene the 18th G20 summit on 9–10 September 2023 in New Delhi. It assumes the rotating presidency of the G20, the economic steering committee for the world with a slew of issues that could alter the course of international interactions. Coincidentally, India assumes the presidency of the UN Security Council and will chair the Shanghai Cooperation Organisation, the world's largest regional forum, till September 2023. In May 2022, the Economist ran a cover story about India where it concluded that the country is now an outstanding economic reformer. In November 2022, multinational investment management and financial services company Morgan Stanley predicted that India's economy would account for one-fifth of global growth over the next decade. Suddenly, it feels like India's moment has come to bring its statesmanship and craft a global agenda for economic transformation.
Since 2008, the G20, which comprises Argentina, Australia, Brazil, Canada, China, France, Germany, India, Indonesia, Italy, Japan, the Republic of Korea, Mexico, Russia, Saudi Arabia, South Africa, Türkiye, the UK, the US, and the European Union, has emerged as the world's premier intergovernmental forum, comprising developed and developing countries. The bloc represents economies that account for more than 80% of global GDP, about 75% of its commerce, and 60% of the population. The previous presidencies of G20 delivered significant results in global economic governance, ensuring macroeconomic stability, rationalising international taxation, relieving debt burden, and strongly recovering from the COVID-19 pandemic, amongst many other outcomes.
Indian Prime Minister Narendra Modi has called for international cooperation to deal with global issues, outlining the country's approach to the G20. He said that the challenges of 'climate change, terrorism, and pandemics can be solved not by fighting each other, but only by acting together'. He underlined the need to 'depoliticise the global supply of food, fertilisers, energy, and medical products so that geopolitical tensions do not lead to humanitarian crises'.
The theme for India's G20 presidency—One Earth, One Family, One Future—highlights the importance of an approach that unites the world in tackling the future and of meeting expectations of developing countries. About 200 global meetings in 56 locations across India are to be organised, primarily under the Finance track, consisting of eight work streams, and the Sherpa Track, consisting of 13 working groups. Fifteen high-level ministerial meetings will be held, including 1 of foreign and finance ministers. Twelve engagement groups will be organised for non-governmental entities such as think tanks, businesses, science institutions, youth, women, start-ups, and so on to provide advisory services through seminars, workshops, and conferences.
Amitabh Kant, India's G20 Sherpa, stated that India's presidency has to be inclusive, ambitious, decisive, and action oriented. This is a tall order given the multiple crises that characterise global governance systems and the current polarisation of international cooperation efforts. India has a tough task ahead to bring together an ambitious action-oriented comprehensive G20 agenda. In 2023, the task for India is crucial, given the lasting effects of the Russia–Ukraine conflict, western sanctions on energy trade, economic downturns, pandemic worries, and climate change issues that are testing the basic foundations of globalisation and an international cooperation architecture.
Given the prominence of the G20 president and the opportunity to shape global narratives, India may find that with great power comes great responsibility to translate its spirit of idealism, such as Lifestyle for Environment, which shows how individual and national environmentally sustainable and responsible choices can lead to more informed and transformative actions globally and contribute to a cleaner and greener global future.
How can India use the G20 mantle to establish a successful global architecture that looks beyond 2023? India could consider three action clusters for blending the philosophical idealism with pragmatic discourse.
First, the G20 is often criticised as a talk shop without a permanent secretariat or continuity in its policy mandate, often leading to disjointed outcomes and no concrete action with a compliance mechanism. India will have to maintain policy continuity from Indonesia if it wants to leave an imprint on the G20 discourse. Indonesia's priorities for 2022 were the global health architecture, digital transformation, and green energy transition. India has indicated that it will continue prioritising digitisation to transform lives. Other stated priority issues for India include health financing and digitisation of service delivery; digital public infrastructure and tech-enabled development; climate and disaster resilience; fight against economic crime; reforming the multilateral organisations and trade regimes; leveraging the circular blue economy; green financing, energy security, and the green hydrogen mission; accelerated pace of Sustainable Development Goal (SDG) implementation; and women's empowerment. This is the stage that India inherits, not just as a promoter of continuity but as a country with a unique footprint of pragmatism and universal solidarity and that can act as an honest broker of domestic solutions for global challenges.
Second, India should seek policy synergy by championing certain issues of priority for the global South within G20 and that of Group of Seven (G7), the de facto custodian of global order. In 2023, with Japan as the chair, G7 wants to make united efforts to address major global economic, environmental, and social development challenges inclusively to benefit all countries. At the G20, India is prepared to steer discussions on reforming multilateral trade initiatives, counter-terrorism cooperation, and climate change actions. These issues have previously featured in sub-regional forums, such as the Association of Southeast Asian Nations; the African Union; India, Brazil, and South Africa alliance; the Bay of Bengal Initiative for Multi-Sectoral Technical and Economic Cooperation; and others. The four consecutive G20 presidencies by Indonesia, India, Brazil, and South Africa are a first in the history of the G20 and must be leveraged to get buy-in from a larger group of advanced G7 countries and emerging economies that the developing global South wishes to advance on the world stage. The presidencies could mean that greater attention is placed on countries falling behind on achieving the SDGs, fostering a global enabling environment for digital transformation, advancing the provision of global public goods, and fostering international cooperation to support developing countries in advancing their developmental ambitions in a common but differentiated way.
Third, geopolitical tensions arising from Europe, Asia, and Africa could derail the G20 discourse in 2023. For example, the COVID-19 pandemic has forced the G20 Italy to take on a more diplomatic role akin to that of the United Nations and obscured discussions regarding the G20's financial mandate. Indonesia held the G20 presidency in a world gripped by geopolitical events in Russia and Ukraine. Until the end, all major leaders were uncertain if they would agree to a joint statement, which was eventually forged in Bali. It is hard to predict several new issues that could unfold from now to September 2023. The post-pandemic scenario is still tipping towards a global recession next year. A universal sense prevails that 2023–2030 will be critical for sustaining the planet. More than 70 countries have crippling debts, which could result in another global crisis and may hijack the Delhi G20 summit agenda. As Indonesia's President did, India's Prime Minister or his special emissaries will have to travel to national capitals to ensure that India's long-awaited moment to lead and spearhead new idealism has arrived and that it can be transformed into pragmatic action at negotiating tables. For now, India is reasonably confident that it can rise to the occasion with its enhanced intellectual, administrative, and social capital, and upgraded bureaucracy with a carefully crafted consultation process.
This opinion piece was written by ERIA's Director of Research Strategy and Innovation, Dr Venkatachalam Anbumozhi. Click here to subscribe to the monthly newsletter.
Disclaimer: The views expressed are purely those of the authors and may not in any circumstances be regarded as stating an official position of the Economic Research Institute for ASEAN and East Asia.
CHOOSE FILTER