2nd Breakfast Meeting for IMT-GT Ministers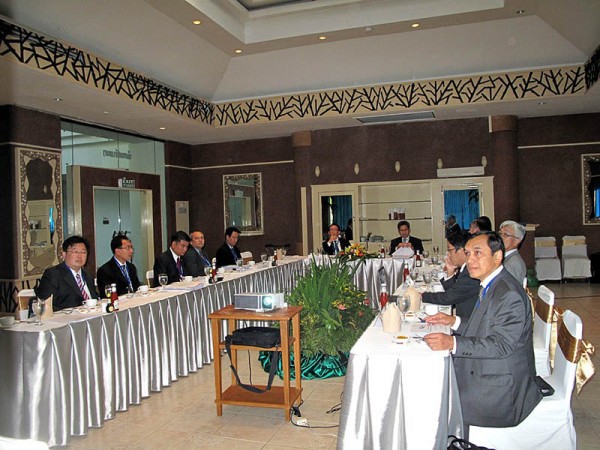 The Ministers of IMT-GT (Indonesia-Malaysia-Thailand Growth Triangle) had a productive exchange of views with the Executive Director of ERIA at the 2nd Breakfast Meeting held in Krabi, Thailand on August 5, 2010.
The Ministers welcomed ERIA's efforts and ERIA's initiative and sponsorship to organize the Symposium on Energy Saving and Biofuel Utilization to be held at Prince of Songkla University, Hat Yai, Thailand scheduled on 1st and 2nd September 2010. They also expressed strong expectations from the Comprehensive Asia Development Plan.
On this occasion, Mr. Nishimura met with H.E. Tan Sri Nor Mohamed Yackop , Minister in the Prime Minister's Department of Malaysia (picture 1) and H.E. Mr. Satit Wongnongteoy, Minister of the Prime Minister office of Thailand (picture 2).
CHOOSE FILTER