1st Meeting of ERIN for East Asia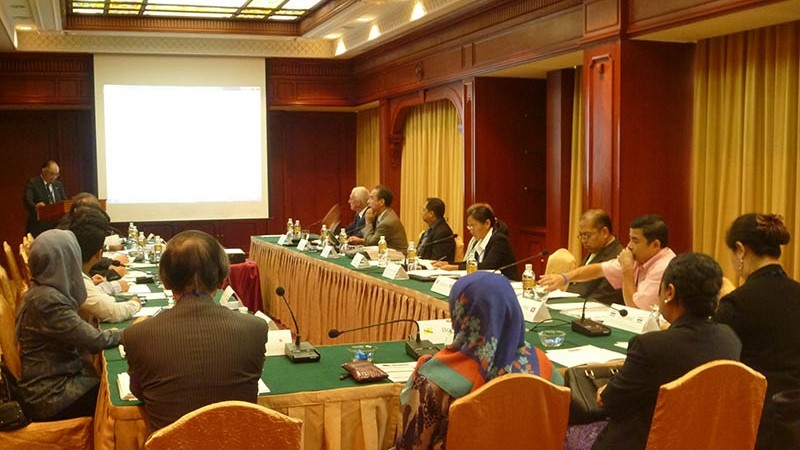 The 1st Meeting of the Energy Research Institute Network (ERIN) for East Asia was held on September 6, 2014 in Brunei Darussalam.ERIN consists of prominent energy research institutes in 16 countries (ASEAN+6 countries) as well as ASEAN Center for Energy (ACE) on behalf of ASEAN governmental energy organization.
In order to improve quality of energy research studies being conducted by ERIA Energy Unit, ERIN will provide country specific information and share research findings and give advice on identification of energy research themes and recommendations coming out of studies.
The meeting was moderated by Dr. Weerawat Chantankome, Chairperson of ERIN. Mr. Masakazu Toyoda, Chairman and CEO, Institute of Energy Economics, Japan (IEEJ/ ERIN Secretariat), gave the keynote speech explaining the energy challenges at global and regional level and the need for a research network. Prof. Hidetoshi Nishimura, Executive Director of ERIA, made opening address and presentation on ERIA's history, its institutional characteristics and recent major activities. He strongly expect that each ERIN member can give us advice in identifying energy research themes and in providing recommendations based on in-depth studies. During the meeting, ERIN Members explained their ongoing works, facts and figures of energy situation and the emerging policies that are reshaping the energy security landscape in the region and specific countries. They also discussed especially on the identifications of areas that need prioritization for future research. The 2nd ERIN meeting is planning to be held in April 2015 in Singapore.
CHOOSE FILTER