1st ERIA Research Institute Network Meeting FY2012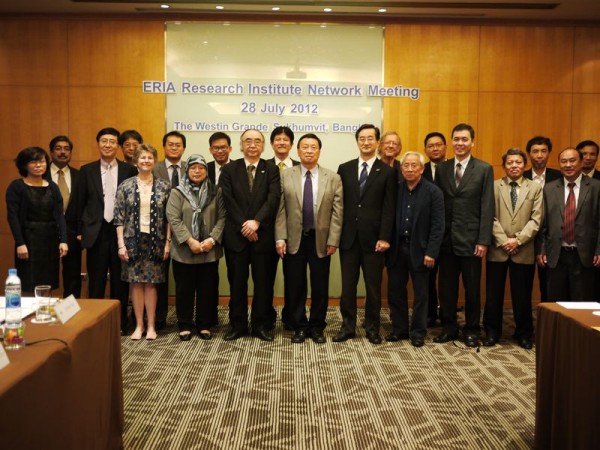 The 1st ERIA Research Institute Network (RIN) Meeting for the year 2012 was held in Bangkok, Thailand on July 28, 2012 under the chairmanship of Dr. Hank LIM Giok-Hay from Singapore Institute of International Affairs (SIIA). Mr. Yasuhiro Yamada, President, BRC-JETRO moderated the meeting.
Prof. Fukunari Kimura, Chief Economist of ERIA, presented the results of research projects in FY2011 and explained the research projects in FY2012. Mr. Mitsuo Matsumoto, Managing Director of Research Affairs of ERIA, briefed on recent ERIA's activities since last RIN meeting. Dr. Sothea Oum, Economist of ERIA, reported about ERIA's contributions to Cambodian's Chairmanship of ASEAN.
The members also discussed the 2nd RIN Statement entitled "Confronting Rising Inequality in Asia" which will be presented next RIN meeting in January 2013. It was closed by Prof. Hidetoshi Nishimura, Executive Director of ERIA, saying "I welcome the opinions and views for 2nd RIN Statement and I will ensure that it would become the basis for contributing towards development of ASEAN".
The meeting noted that ERIA's research has grown in both quality and quantity. The RIN gave academic and practical recommendations to ERIA for its forthcoming projects. The meeting also exchanged ideas on reinforcing the Research Network process of ERIA.
CHOOSE FILTER