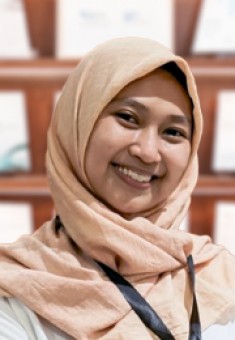 Nadiya Pranindita
Research Associate
Nadiya Pranindita has joined ERIA since March 2023. As a Research Associate, she is currently involved in several energy and development research including hydrogen development in ASEAN.
Before joining ERIA, Nadiya worked as research officer in Resilience Development Initiative (RDI) for Renewable Energy and Emission Reduction (REER) research cluster, where she had responsibilities to manage and conduct academic and consultancy research about low carbon transformation, clean energy transition, energy for community resilience, and renewable energy financing. In addition to that, she served as project task manager and consortium member representing Indonesia in Digital Global Biogas Cooperation (DiBiCoo) program for the past two years. While improving her competence in energy topics, she has several articles published in international proceedings and journals and presented at international conferences.
Nadiya holds a Master of Engineering in Global Engineering for Development, Environment, and Society, School of Environment, Tokyo Institute of Technology, Japan where she focuses her research on energy economy and inclusive development.
Research Interests
Energy and climate policy
Energy economics and financing
Clean energy transition
Circular bioeconomy
Education
Sep 2018 - Sep 2020

Master of Engineering

Graduate Major of Global Engineering for Development, Environment, and Society and Progressive Graduate Minor of Sustainable Engineering

Tokyo Institute of Technology, Japan

Sep 2012 - Sep 2017

Bachelor of Engineering

Universitas Gadjah Mada, Indonesia
Experience
Oct 2020 – March 2023

Research Officer

Resilience Development Initiative (RDI) Indonesia

Feb – March 2020

Research Internship

Institute for Global Environment Strategies (IGES), Japan

April – Dec 2018

Individual Consultant

Ministry of Public Work, Indonesia

Feb 2016 – April 2018

Research Officer

Center for Studies in Regional Planning and Development (PSPPR), Universitas Gadjah Mada, Indonesia
Recent Publications
Pranindita, N., Fortuna, S., Kusumayudha, H., Rinaldy, T. K., & Rianawati, E. (2022). Regulatory Aspects of Deep Eutectic Solvents Technology and Applications. In Current Developments in Biotechnology and Bioengineering (pp. 373–405). Elsevier.
Pranindita, N., Sagala, S., Samosir, A., Anhorn, J., Van Laere, A. K., Zacepins, A., … Mohammed, M. (2021). Biogas Market in Indonesia: The Roles of Carbon Trading. In 2021 3rd International Sustainability and Resilience Conference: Climate Change (pp. 199–204). Institute of Electrical and Electronics Engineers Inc.
Sagala S., Kusumayudha H., Azhari D., Pranindita N., and Rinaldy TK. (2021). The power of Grassroots Energy Innovation to Transform Lives in Java. In Let Communities Lead: Stories and lessons on grassroots energy initiatives for sustainable futures (p. 11). Center for Energy and Society, Arizona State University.