Database and Programmes
Back
[Event] Making CCS/CCUS Affordable: Enabling CCUS Deployment in G20 and Beyond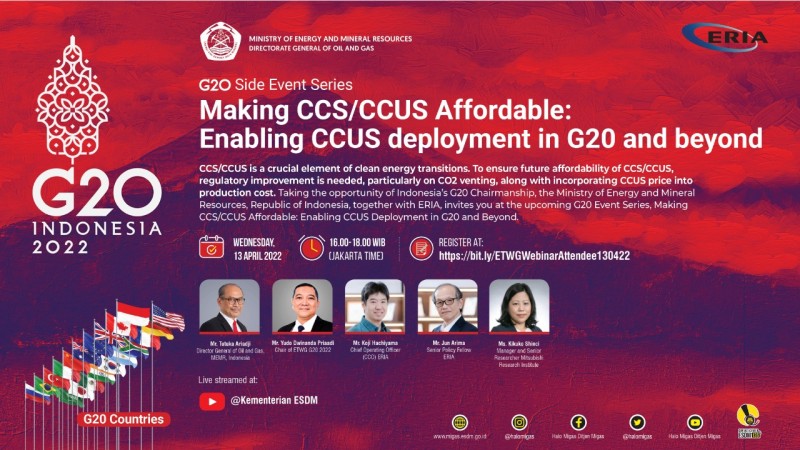 Even when all the Nationally Determined Contributions (NDCs) are revised and implemented, coal, oil and natural gas will still occupy over half of the total global primary energy supply. This is particularly the case in the Asian region which will comprise the bulk of incremental energy demand and CO2 emissions. Thus, the clean use of fossil fuels and Carbon Capture, Utilisation and Storage (CCUS) will be extremely important to decarbonise emissions. A recent study conducted by the Economic Research Institute for ASEAN and East Asia (ERIA) on the Association of Southeast Asian Nations (ASEAN)'s decarbonisation scenarios showed that the marginal abatement cost for achieving net-zero emissions by 2050 will be much more expensive compared with the 2070 net-zero emissions case.
CCUS is a crucial element of the clean energy transition as it is the only technology that contributes both to directly reducing emissions in high energy intensity economic sectors and to removing CO2 to balance emissions that cannot be avoided. Another way to reduce emission is through carbon recycling. After CO2 is captured, it is used to create new materials and products. Instead of just sequestering the CO2, the CO2 will be utilized to make everything from fuel, concrete, and shoes, to cleaning products, plastics, and food. This allows us to recycle the emissions and create a circular carbon economy.
However, the deployment of CCUS will require appropriate supporting policies and investment. Thus, technical experts will need to understand the technical aspect of CCUS and its technologies to help decision-makers to decide on appropriate energy policies to support the development and deployment of CCUS.
Taking the opportunity of Indonesia's G20 Chairmanship, this side event workshop hosted by Asia CCUS Network and the Ministry of Energy and Mineral Resources (MEMR) of the Republic of Indonesia are very pleased to invite all stakeholders to participate in an online workshop on 'Commercializing CCS/CCUS: Making Technologies Affordable'. The workshop will promote knowledge-sharing on the cost structure and range of expected costs of CCUS, joint project demonstration and policy frameworks for supporting the development and deployment of CCS/CCUS. As part of this workshop, we seek potential collaborators for a joint demonstration project (coal power plant + CCUS) with the participation and support of interested G20 countries.
The 2022 G20 Indonesia Presidency Energy Transition pillar includes the main topic of 'Global Cleaner Energy Systems and Just Transitions' that aims at 'achieving global deal to accelerate energy transition'. In this regards, multiple pathways will need to be adopted including the innovative and artificial technology such as CCUS will play important role for carbon sinks and help to decarbonise emissions in identified hard to abated economic sectors.
This workshop will provide new insights into how to make CCS/CCUS affordable to all countries, especially in the developing world. This side event workshop will help escalate the role of CCS/CCUS as part of the just process of low carbon energy transition in developing countries which shall foster the G20 energy transition agenda.
In addition, this workshop aims to support G20 Members to understand the different pathways through the application of artificial carbon sink technology such as CCS/CCUS in the low carbon energy transition context, while pursuing and strengthening the implementation of the previous 2021 G20 Italian action plan that includes ensuring access to clean energy for all, especially in developing countries.
Event Details
Date: Wednesday, 13 April 2022
Time: 4 PM- 6:05 PM (Jakarta time, UTC+7))
Agenda
Jakarta time, UTC+7
Time

Topic

Presenter

4 PM to 4:05 PM

Welcome address

Dr Yudo Dwinanda Priaadi, Chair of ETWG G20 2022

4:05 PM to 4:15 PM

Keynote Speech

Prof Tutuka Ariadji, Director General of Oil and Gas, Republic of Indonesia

4:15 PM to 4:25 PM

The Current State of Carbon Neutrality

Prof Jun Arima, Senior Policy Fellow of ERIA, and co-chair RTWG G20 2022

4:25 PM to 4:35 PM

Introduction of MRI's Research Results on CCUS's Value Chain Costs (including some financial aspects)

Ms Kikuko Shinchi, Manager and Senior Researcher, MRI

4:35 PM to 5:20 PM

Panel Discussion moderated by Dr Han Phoumin, Senior Energy Economist, ERIA.

Topics will concentrate on:

How to realize CCUS and make it affordable through scaling up CCUS projects and through technology innovation.

Ms Samantha McCulloch, Head of CCUS Unit, IEA

Mr Juho Lipponen, CEM

Emily Grubert, Deputy Assistant Secretary for Carbon Management (Video record only)

Ms Guloren Turan, General Manager, Advocacy, Global CCS Institute

Mr Kim Bye Bruun, Communications & Government Relations Director, Northern Lights CCS project

5:20 PM to 6 PM

Panel Discussion moderated by Dr Abdurrahman Saleh, Committee Member of BPH Migas, Ministry of Energy and Mineral resources

Topics will concentrate on:

How developing countries could implement CCUS and best practise from Indonesia.

Mr Tim Dixon, IEAGHG (what the developing countries should do for promoting CCUS in their countries)

Dr Rachmat Sule, ITB (& Dr Usman Pasarai, BRIN) (the role of the National CoE for CCS/CCUS for supporting the implementation of CCUS in Indonesia)

Dr Oki Muraza, Senior Vice President of Research & Technology Innovation, Pertamina (Pertamina's role in speeding up the implementation of CCUS in Indonesia)

Dr Darshak Mehta, Senior CCUS Specialist, Asian Development Bank (financial aspect)

6 PM to 6:05 PM

Closing Remarks

Koji Hachiyama, Chief Operating Officer (COO) of ERIA
.
CHOOSE FILTER