Database and Programmes
Back
ERIA Organizes Capacity Building Seminar and Workshop in Mandalay and Nay Pyi Taw, Myanmar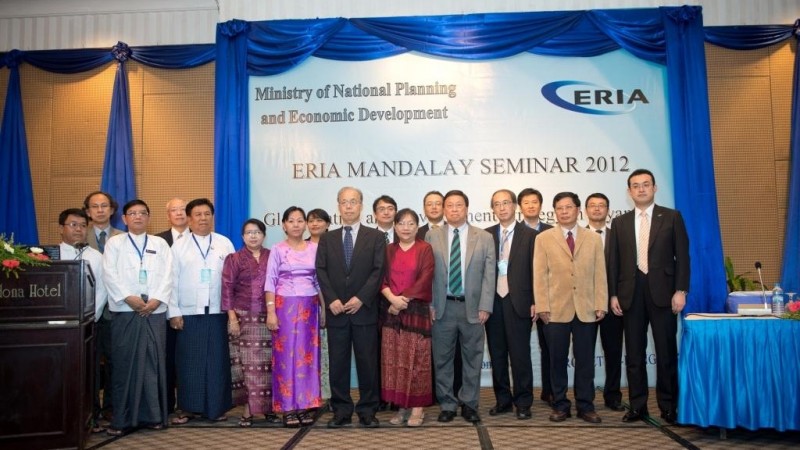 CO-ORGANIZER
---
Ministry of National Planning and Economic Development of the Republic of the Union of Myanmar and Yangon Institute of Economics
Supported by
---
Mandalay Region Chamber of Commerce and Industry, Bangkok Research Center (BRC), JETRO Bangkok, and JETRO Yangon
---
The two days ERIA capacity-building seminar in Nay Pyi Taw was opened by Dr U Kan Zaw, Minister, Ministry of National Planning and Economic Development. In his Opening Remarks, the Minister highlighted that the development strategies in Myanmar are on the right track according to the national development policy framework, the priority sector and areas for future development. These strategies include sustaining agriculture development towards industrialization, ensuring equitable and balanced development among regions and states, and quality and cooperativeness of the states coupled with a series of reform in finance, trade and investment.
The Minister's views were supported by remarks from Prof. Hidetoshi Nishimura, Executive Director of ERIA, U WIN Aung, President of the Union of Myanmar Federation of Chamber of Commerce and Industry, and Dr Hank LIM, Chairperson, Academic Advisory Council, ERIA. Basically, they emphasized that recent political and economic changes and the unveiling of Myanmar Comprehensive Development Vision (MCDV) have provided a vast opportunities and challenges for Myanmar to meet the objectives of the ASEAN Economic Community by 2015 and to leverage on rapidly changing regional and global economic landscape.
With a view to enhance capacity-building and human resource development, 4 workshops were set up to discuss (1) Agro-Business Group, (2) Effective Aid Management, (3) Improvement of Investment in Myanmar, (4) Foreign Exchange Management.
Based on the discussions of the Moderators and participants, the following are the main salient points:
Agro- Business Group
Based on Thailand's experience of agriculture development from 1960 to 1990s, agriculture growth should be viewed at three hierarchal levels, upstream, middle stream and downstream and the importance of agri-business for inclusive growth objective.
The workshop discussed the challenges and opportunities of Myanmar agri-business in achieving competitiveness in the regional market, including the two new Farm Land Laws. In addition, the role of government is vitally important in the provision of extension services, capacity building and financing upstream to downstream agri-business.
Effective Aid Management and the Development of Myanmar
The moderator of this workshop focused discussion and analysis on the main issues related to what is the constitutional framework for the development of administration and the effective way to achieve the social and economic development through ODA in realizing various tools.
Even with the absence of knowledge and experiences to discuss the issues, participants, mainly from the Ministry of National Planning and Economic Development and line Ministries, conducted a good exchange of current priorities and concern.
From the group discussion, it is clear that organizational structure and official procedure/ process, including alignment with donors, seem critical where policy makers have to make decisions on priority among different options.
As the amount of aid increases, sustainable capacity development in all levels is indispensable. For this purpose, a comprehensive capacity assessment is vitally required to be conducted.
Improvement of Investment Incentives in Myanmar
The discussions concentrated on two main issues on (a) how to invite FDI and (b) how to benefit from FDI.
The workshop participants discuss relevant factors that are important to attract FDI. Based on the regional experience, it was suggested that macroeconomic stability, better infrastructure, lower cost of production and administrative transparency and efficiency are most prominent.
However, successful FDI inflow does not automatically ensure FDI-driven economic growth.
Half of the participants identified 3 potential sectors which are attractive to FDI, namely, energy, including natural gas, hotels and tourism and ICT.
The other half of participants noted that attracting agro-based industry, especially from Japan, would be promising.
As human resource development is vital to sustain FDI, it was suggested that extended training courses related to FDI activities should be promoted through ERIA, other regional and international development agencies.
Foreign Exchange Management Workshop
-As Myanmar opens up its economy, foreign exchange management is crucial in the early stage of liberalizing its economy.
-The lack of foreign exchange reserve caused the fragmented foreign exchange market and the lack of effective intervention by the Central Bank.
- Based on the Vietnam's experience, Myanmar has to keep dollarization under control in order to minimize the risk of inflation.
- Liberalization in current account must be given priority before liberalizing the capital account as the latter policy requires much complex measures to manage it well.
-To minimize the distortion of foreign exchange market, the Central Bank should give priorities for short-term solution in managing foreign exchange rate, for example, by buying foreign currency to absorb as much as possible, liberalizing the current account, encouraging people to put foreign currency into foreign currency deposit.
- The participants suggested some long-term policy solutions to develop the foreign exchange market in the future especially to develop inter-bank market and apply open position limit like the case of Vietnam currently. For example, since 1994, the state banks of Vietnam only buy and sell foreign currencies with commercial banks.
-After the capital account was liberalized, especially in the stock market, in 2007 after Vietnam became a WTO member, the foreign exchange market in Vietnam has been highly fluctuating and this has caused domestic inflationary pressure and instability of the domestic currency. Myanmar should learn from the Vietnam's experience in managing foreign exchange market.
Myanmar Expects Development through Foreign Direct Investment
CHOOSE FILTER