Database and Programmes
Back
ERIA and OECD signed MOU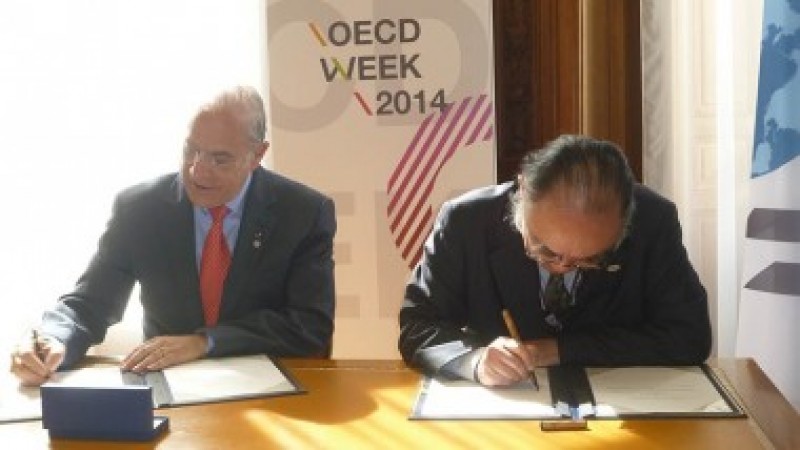 Paris, 6 May 2014: ERIA (Economic Research Institute for ASEAN and East Asia) and the OECD (Organisation for Economic Co-operation and Development) signed a three year term MOU (Memorandum of Understanding) at the OECD headquarters in Paris, France on 5 May, 2014 to conduct join policy research on multi-dimensional issues.
The signing ceremony between H.E.Mr. Angel Gurria, OECD Secretary General and Prof Hidetoshi Nishimura, ERIA Executive Director was witnessed by H.E. Mr. Toshihiro Nikai, former Minister of Economy, Trade and Industry, Japan who contributed to creation of ERIA.
H.E.Mr. Gurria said that the ERIA-OECD cooperation showed the importance of his organization placed on ERIA and potentials of Southeast Asian economies. He said that OECD has a long history of best practices among its members and beyond and would like to share them with emerging economy. "We can share them with Southeast Asian friends," he said.
Echoing Gurria, Prof Hidetoshi Nishimura, ERIA Executive Director said: "It is a historical moment for ERIA and OECD to forge a formal cooperation." To celebrate the occasion, Prof. Nishimura produced a haiku to mark the commemoration, very much to the delight of the participants.
The cooperation will include: (1) policies to support SMEs and foster entrepreneurship (2) investment in infrastructure through the use of PPPs (3) analysis on trade in value added and global value chains, and (4) disaster risk assessment and risk financing.
To download Press Release, please click on the following PDF file:
CHOOSE FILTER