Database and Programmes
Back
Bringing ASEAN to the Media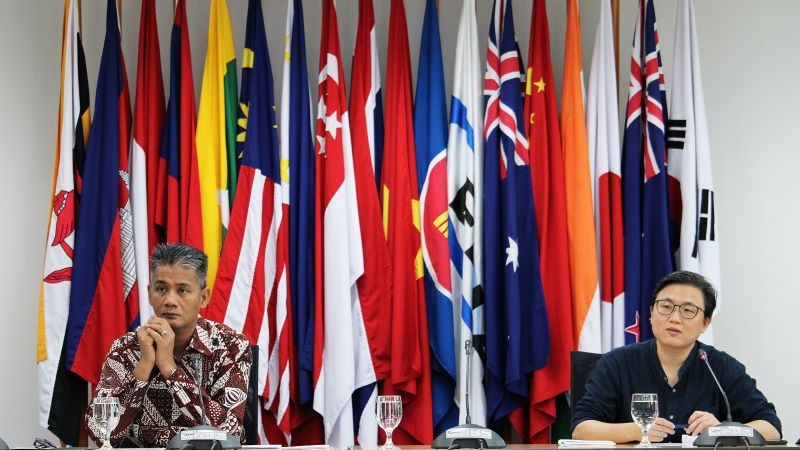 Jakarta, 28 Feb 2023: One of the greatest challenges for ASEAN is making its relevance understood. The mainstream narrative goes something like this: ASEAN is just a bunch of meetings, a toothless institution that is ruled by consensus.
Providing media with candid explanations about ASEAN programs under Indonesia's chairmanship was the main goal of a roundtable discussion co-hosted by the Economic Research Institute for ASEAN and East Asia (ERIA) and the Center for Strategic International Studies (CSIS) Indonesia. The discussion between journalists and experts covered a range of topics from blue economy to energy security, from Myanmar to geopolitics.
Indonesia's chairmanship of ASEAN is extremely important given current global challenges including the crises in Ukraine, energy security, climate change. Thus expectations on Indonesia are very high. Indonesia is expected to prioritize initiatives that will support its theme: 'ASEAN Matters: Epicentrum of Growth.' Some of the priorities carry over from Indonesia's successful chairmanship of G20 last year including regional health infrastructure, energy and food security, and financial stability. Developing the electric vehicle ecosystem, digital economy, connectivity, Myanmar, ASEAN Post 2025, the Code of Conduct on the South China Sea, and the blue economy are all also important issues.
Over the next six months during the lead-up to the Summit in September, CSIS and ERIA hope to provide strong support to journalists as they tell a more nuanced story of ASEAN's importance.
Speakers included Ambassador Derry Aman (Permanent Representative of the Republic of Indonesia to ASEAN), Dr Yose Rizal (Executive Director of CSIS Indonesia), Kavi Chongkittavorn (ERIA Senior Communications Advisor), Meidyatama Suryodiningrat (President Director, Antara), Dr Alloysius Joko Purwanto (Energy Economist, ERIA) and Dr Lina Alexandra (Head, Department of International Relations, CSIS).
CHOOSE FILTER