Symposium on Socializing the Master Plan on ASEAN Connectivity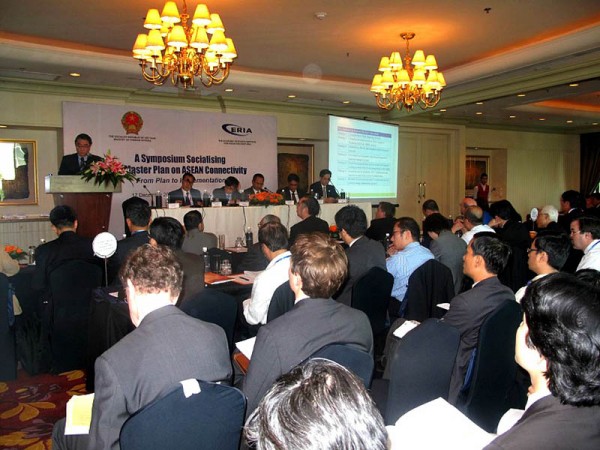 The Symposium entitled "Socializing the Master Plan on ASEAN Connectivity" was jointly organized by the Government of the Socialist Republic of Viet Nam and ERIA on 17 December 2010 in Ho Chi Minh, Viet Nam.
The Symposium was officially opened by H.E. Mr. Pham Quang Vinh, the Assistant Foreign Minister of Viet Nam and Chairman of ASEAN Senior Official Meeting, and was attended by over 120 policy makers and business representatives from both ASEAN Member States and Dialogue Partners including Australia, China, European Union, India, Japan, New Zealand, Russia and United States. Representative from UNESCAP also attended the Symposium.
The Symposium recognized the important roles of the Master Plan on ASEAN Connectivity in accelerating the region's integration process through the enhancement of physical, institutional and people-to-people linkages as ASEAN work towards establishing a Community by 2015.
The Master Plan on ASEAN Connectivity was well received by all Dialogue Partners' representatives who also echoed their support for its implementation. H.E. Mr. Takio Yamada, Japan's Ambassador to ASEAN pointed out that the rationale behind Japan active contribution to ASEAN Connectivity is very much in-line with her interest for a dynamic and resilient ASEAN which will help to promote greater economic growth between the two region. He also pointed out that Japan is ready to assist in the implementation of the Master Plan through the establishment of a co-ordination mechanism.
CHOOSE FILTER