"Analyses of Industrial Agglomeration, Production Networks and FDI Promotion"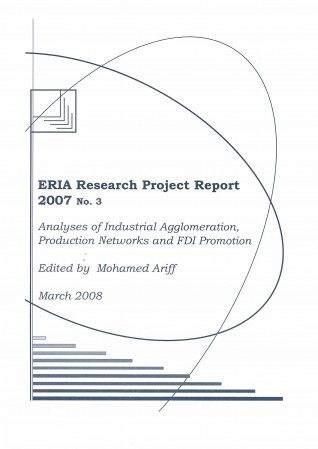 List of Project Members
Mohamed Ariff (Project Leader): Executive Director, Malaysian Institute of Economic Research (MIER), Malaysia.

Sau Sisovanna : Senior Researcher, Cambodian Institute for Cooperation and Peace (CICP), Cambodia.

Dionisius A. Narjoko: Researcher, Department of Economics, Centre for Strategic and International Studies (CSIS), Indonesia.

Masatsugu Tsuji : Professor, Graduate School of Applied Informatics, University of Hyogo, Japan.

Sung-Chun Jung: Head of Japan Team, Korea Institute for International Economic Policy (KIEP), South Korea.

Mari-Len Reyes-Macasaquit : Supervising Research Specialist, Philippine Institute for Development Studies (PIDS), The Philippines.

Somrote Komolavanij: Associate Professor, Sirindhorn International Institute of Technology (SIIT), Thammasat University, Thailand.

Truong Chi Binh: Manager, International Cooperation and Policies Division, Institute for Industry Policy and Strategy (IPSI), Vietnam.

Yasushi Ueki: Research Fellow, Bangkok Research Center, Japan External Trade Organization (BRC/JETRO), Thailand.

Tomohiro Machikita : Research Fellow, Institute of Developing Economies (IDE/JETRO), Japan.
Full Report
Contents
EXECUTIVE SUMMARY
Mohamed Ariff
1. The Determinants of Industrial Agglomeration in Indonesia
Dionisius A. Narjoko
2. Industrial Agglomeration in the Philippines
Mari-Len Reyes-Macasaquit
3. The Development of Industrial Agglomeration and Innovation in Thailand
Somrote Komolavanij
4. Factors of Agglomeration in Vietnam and Recommendations
Truong Chi Binh
5. Consolidated Multi-country Analysis of Agglomeration
Masatsugu Tsuji and Yasushi Ueki
6. Fostering Innovation and Finding Sources of New Technologies: Fiem-Level Evidences from Indonesia, Thailand and Viet Nam
Yasushi Ueki, Tomohiro Machikita, and Masatsugu Tsuji
7. Industrial Agglomeration, Product Networks, and Foreign Direct Investment Promotion: Cambodia's Experience
Sau Sisovanna
8. Korean Automobile Industry's Production Network in China
Sung-Chun Jung
9. New Perspectives on Industry Clusters in Malaysia
Mohamed Ariff
CHOOSE FILTER