Xi's visit to Bangkok, East Wind Blowing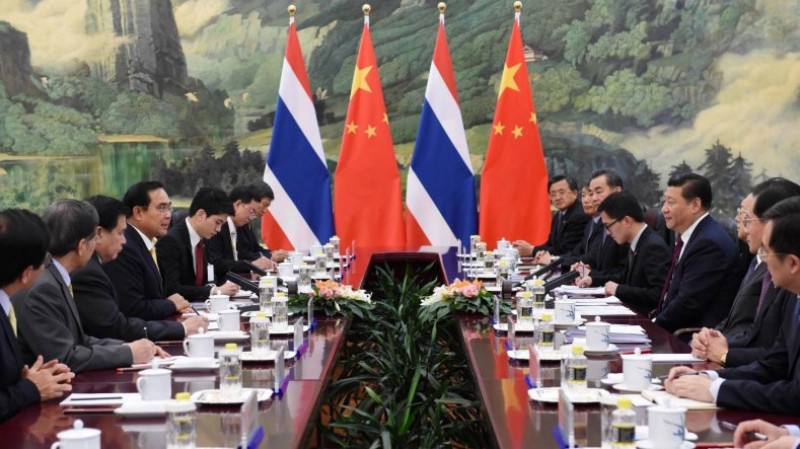 By Mr Kavi Chongkittavorn, Senior Communications Advisor: Thailand gladly welcomes Chinese President Xi Jinping with three understandings at the forefront of its mind, namely that now is the Asian Century; that China is the undisputed leader; and that Thailand-China ties are consequential to peace and stability in the region. Thailand will do its utmost to further strengthen bilateral ties with China in anticipation of their 50th anniversary of diplomatic ties in 2025 and beyond.
In joint research completed recently by National Defence College, one of the four scenarios outlined has been taken up as the future geopolitical trend in the region. It forecasts that: nations are willingly jumping on China's bandwagon; that there is little likelihood of interstate war; there is extensive economic and financial cooperation, deepening regionalism, and that the region and its people are growing incrementally; and that there is a stable political order with a hierarchical structure. That much was clear.
On the contrary, the Thai strategists think the opposite scenario, which is bleak, titled Cold War Redux has an 85 percent chance of possibility. It predicts the return of containment, the threat of global nuclear war, numerous nations choosing defence alliances with the US, great economic and financial disruption as globalization sharply contracts, and a stagnant regional economy.
The remaining two scenarios are not feasible. Indeed, the one titled "Nirvana" is too good to be true with all regional and global development in equilibrium for economic and security spectrums and without the prospect of interstate wars. The worse scenario titled "Home Alone" depicts the world in disarray with national survival at stake as interstate wars rage, arms races both conventional and nuclear, and disruption of financial and economic transactions. In the next couple of days, Thailand will have a first hand experience the Chinese leader to test its foresight.
Xi's participation at the Asia Pacific Economic Leaders Meeting (APLM) at the weekend is extremely timely. His in-person presence will directly impact on the perception held by the Thai strategists and policy makers about China's role and leadership. More than the officials would like to admit, despite different political system and ideologies, the so-called "the Chinese characteristics" and "the Thai characteristics" share more commonalities (tong yang xing) than divergences in the conduct of economic and certain aspects of security policies. Both countries want a peaceful and stable region with shared prosperity.
It is notably that China joined Apec as its first regional economic engagement in 1991, which helped the country to open up and the average tariff rate dropped 39.5 per cent to about 7.4 per cent. By 2020, China's trade with the Apec members have reached nearly US$3 trillion. With such a large economic, the world economic No. 2 can do a lot within the Apec framework. China has gained experience in utilizing science and technology, especially those related to sustainable development and green economy. Such expertise will fit and help Thailand to achieve the goals under the new economic model, known as "Bio-Circular-Green Economy" or BCG, which is also enshrined in the APLM's key outcome documents.
That helps also to explain why Thailand was among the first countries to join Group of Friends of Global Development Initiative (GDI), when Xi raised the idea at the United Nation General Assembly last September. Indeed, Thailand's BCG shares the same key concepts with the GDI, dwelling on people-centered prosperity as well as a balanced, sustainable and inclusive growth. In addition, these objectives are also the 2030 Agenda for Sustainable Development.
Due to the absence of US President Joe Biden, who chose to attend the wedding of his grand daughter at the Whitehouse this weekend, the most powerful Apec leader taking part in the summit in Bangkok will inevitably be President Xi. His visit, the first as the head of state, to Thailand comes at a time when the global geo-strategic and economic landscape has shifted to Asia. As such, the international community is watching closely what Xi will say and do during his Nov 17-19 visit to Thailand. He will be accompanied by his wife, Madame Peng Liyuan, who has had a close rapport with Prayut's wife, Naraporn, since their first meeting in 2014 during the Beijing-hosted Apec and has been maintaining personal contacts. Xi visited Bangkok as Vice President in December 2011.
Fresh from the success of the 20th People's Congress, Xi could use the Apec platform to reassure the world that China is open and will continue to engage the international community. When he reported to Congress on the last day, he said the world needs China, and vice versa, China needs the world. With 21 economies and their leaders in-person converging in Bangkok as the threat from the Covid-19 pandemic subsides, Xi can reiterate this mantra, besides the trade and investment issues, with its commitment to contribute to the global common good including strengthening multilateralism, fighting the climate crisis, and promoting economic recovering, food and health security, among others.
As China becomes more affluent and confident, while in Bangkok, Beijing would like to send at least two clear messages to the global community. First and foremost, China has improved its economic engagement development and wants everybody to know that it is moving up to a high-quality economic model. China is a member of the ASEAN-led Regional Comprehensive Economic Partnership. Beijing is also supportive of the planned Asia Pacific Free Trade Agreement. Second, from now on, China will want to raise its international profile and influence so that it can play a greater role in global governance. In a nutshell, China is no longer a spectator. In Bangkok, Xi is the right person in the right place at the right time. As re-elected leader for a third term, Xi's legacy is at stake; everything he pursues will be scrutinized to the tee.
From the region's vantage points, while they welcome China's rise and more expansive global profiles, quite a few countries are concern and very anxious about Beijing's new assertiveness. They hope that China in days to come would be able to mitigate and resolve current disputes or any possible hotspots with the concerned parties. If these objectives could be attained, it will certainly discourage the regional countries to seek extra outside supports or form new alliances that could detrimental to the bloc's solidarity and centrality as well as its ties with China.
After the APLM, Xi and Prime Minister Prayut Chan-o-cha now will have the opportunity to hold bilateral talks on 19 November. As both sides are commemorating the 10th anniversary of their comprehensive strategic cooperative partnership, Thailand and China are looking for ways to rejuvenate their bilateral relations, as they prepare to commemorate their 50th anniversary 2025. In the Chinese tradition, when the relations reach 50 years, it is supposed to be "the period to know all about life" (wu shi zhi ming). That is to say, the Sino-Thai relationship have reached maturity and without doubt should be further elevated to a higher level to face up new challenges together. By that time, they hope to announce the establishment of Thailand-China Community with shared future for enhanced stability prosperity and sustainability.
That would be the task of the senior offices from the two countries. At present, Thailand and China have excellent cooperation in politics, security, trade, investment, digitalization, health, culture, education, tourism, science, and technology, the list goes on.
However, one area that needs to be further enhanced is the increased interactions between youth and community-based groups between the two countries. In addition, there is an urgent need for Thais to have a better awareness, understanding and appreciation of China's history and general affairs. Numerous seminars and discussions among the Thai officials and business sectors have often pointed to the lack of a well-rounded and comprehensive understanding of China's thinking and tradition among the Thai decision makers and academia.
Currently, nearly 900,000 Thais are studying putonghua (mandarin Chinese) with different levels of seriousness at all levels, thanked to Princess Maha Chakri Sirindhorn, who is very keen on the language and culture of China. However, there seems to be no connection with the numbers of Thais taking up China as an area study. Today, there is a mere handful of Thai scholars who have an indigenous understanding of the Middle Kingdom. Thai studies are taught in 49 university with thousands of students study the Thai language.
It is also notable that before the outbreak of the pandemic, from 2013 to 2019, there were around 10 million Chinese tourists visiting Thailand annually—translating into just 30,000 persons on average everyday. With such an intense contacts and interaction, it is incumbent on their decision makers to find ways to transform these people-to-people exchanges more fruitful, durable and mutually beneficial beyond the photo-op and package tours.
This opinion piece was written by ERIA's Senior Communications Advisor, Mr Kavi Chongkittavorn, and has been published in Bangkok Post. Click here to subscribe to the monthly newsletter.
Disclaimer: The views expressed are purely those of the authors and may not in any circumstances be regarded as stating an official position of the Economic Research Institute for ASEAN and East Asia.
CHOOSE FILTER