World Bank Report: East Asia Countries Should Adapt Development Model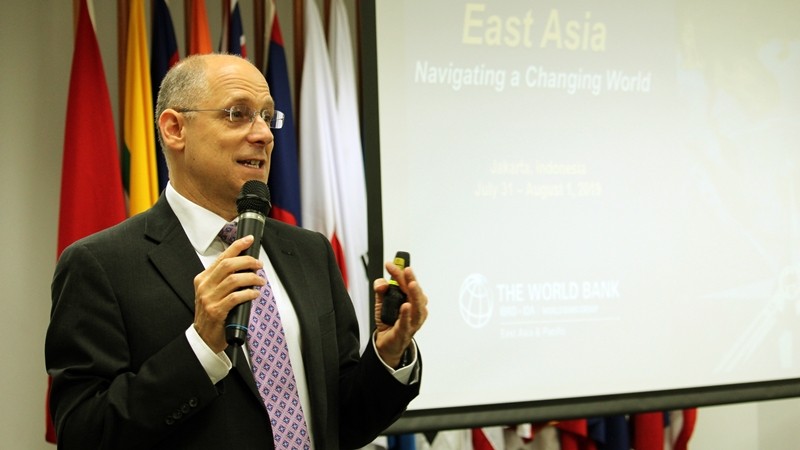 Jakarta, 1 August 2019: A recent World Bank report 'A Resurgent East Asia: Navigating a Changing World' stated that countries in developing East Asia will need to adapt their development model to ensure that they would improve their economic development in order to prosper during the shifting global situation. The report was presented by Dr Andrew D. Mason, Acting Chief Economist of East Asia and Pacific Region, the World Bank, in a discussion held by ERIA and the World Bank at ERIA's office on 1 August 2019.
Dr Mason began his presentation by outlining the ways in which the East Asian development model has worked: outward-oriented, labor-intensive growth, basic human capital development, and sound economic governance. A combination of these things have translated into a higher economic growth compared to other developing regions in the world, even if China is not included in the calculations. By 2016, about two-thirds of East Asian population were economically secure. However, development is still far from complete as income, productivity, and human capital levels are far lower than in high-income countries.
Dr Mason stated that there are three issues that create new development challenges: trade, technology, and the countries themselves. Moreover, there are also several emerging challenges in East Asia; (1) slowing productivity growth, (2) inclusion at risk, and (3) rising demands on state institutions. He explained the statistics of global trade, trade restrictions on services, challenges in building innovation, the need for technology in learning, the emerging robot industry, and countries' low spending on social sectors.
In order to address the shift of circumstances, developing East Asian countries need to adjust their traditional development model and incorporate both new and traditional policy priorities. Dr Mason stated that there are five key areas that policymakers need to focus on: (1) Boosting economic competitiveness, (2) Building skills, (3) Fostering inclusion, (4) Strengthening state institutions, and (5) Financing the transition to high-income status. These policy recommendations do not negate the current focus on development policy, which is still relevant, but the World Bank suggested policymakers should adapt elements of their approach in order to foster their economic security.
The presentation was followed by a panel discussion moderated by Prof Fukunari Kimura, Chief Economist of ERIA. The first panelist was Prof Mari Elka Pangestu, Former Minister of Trade and Former Minister of Tourism and Creative Economy of Indonesia, who is currently a member of ERIA's Governing Board. According to Prof Pangestu, the World Bank report is a good report that highlights the achievements of the East Asia 'Miracle' and identifies emerging challenges, painting a picture of the changing world—which she called the 'new normal'. The report also provides a framework of a policy strategy for the next stage of East Asia development. She said that the current slowdown in trade, anti-globalisation tendencies such as the rise in nationalism and protectionism, and trade tensions are not short-term and it is disrupting the global value chain. To counter that, the world needs to be more open and maintain a rules-based trading system which has been the key to East Asia's development.
Prof Pangestu also emphasised the need to address the issues of sustainable development and climate change, which were not included in the report. 'Sustainable development and climate change need to be mainstreamed into our development and growth strategy. If you don't address it, it's going to cost your economic growth. If you address it properly, you can reach a higher quality growth,' she said, adding that by addressing these issues, new jobs will also be created and it will provide new economic opportunities.
The second panellist was Dr Fauziah Zen, Senior Economist at ERIA. She acknowledged Prof Pangestu's comments and emphasised the dangers of ignorance. Her comments touched on technological advancement and government's capacity, social protection issues related to the ageing population, and several constraints on how to prioritise individual reforms when when several reforms are needed simultaneously. Dr Mason responded by saying that if we focus to only one point, we are missing its complimentary factors that also need to be done because they all are linked to one another.
The report can be found on the World Bank's website here.
CHOOSE FILTER