Uber Could Face Stiff Resistance in Cambodia's Crowded Ride-Hailing Market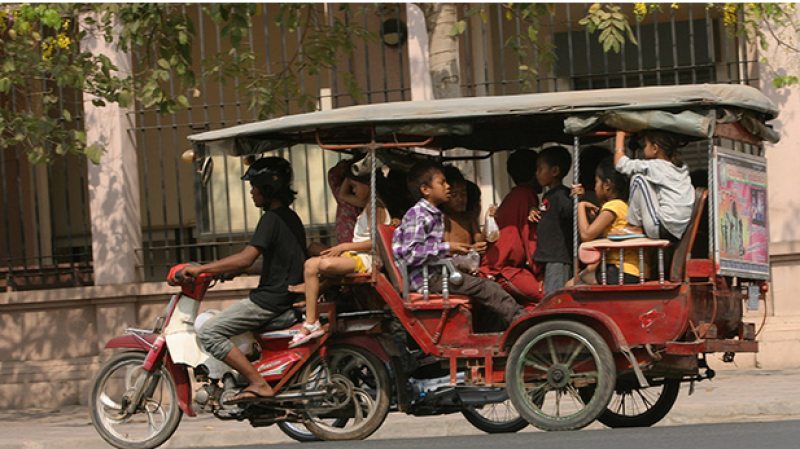 Editor's note: This article was originally published in Sea Globe on 18 January 2017. ERIA's Economist Masahito Ambashi was quoted.
International ride-sharing app Uber has set its sights on Cambodia, a market that is already becoming crowded with similar services.
Representatives of Uber – which allows users to request transport from drivers in their area using a smartphone – met with Cambodian Minister of Commerce Pan Sorasak at the Ministry of Commerce last Thursday to scope out the possibility of expansion into the emerging market.
According to a ministry Facebook post, the representatives "were very impressed with the Cambodia's new market, but at the same time they need to understand more about economic situation, people's living standard, and other challenges first".
While Uber has 40 million monthly riders worldwide and operates in more than 500 cities, it could face a tough time gaining traction in Cambodia, where local ride-hailing apps Exnet Taxi Cambodia, Choice Taxi, iTsumo and PassApp Taxi have already begun carving out their own niche.
PassApp Taxi, for example, claims to operate 100 rides a day using the approximately 50 tuk-tuks and 30 private cars contracted to the service.
Such apps make it easier for people in neighbourhoods where transportation may not be immediately available, while distance-dependent pricing effectively eliminates the problems surrounding haggling.
Masahito Ambashi, an economist at the Economic Research Institute for Asean and East Asia, said Cambodia could provide a lucrative Asian market for Uber, which largely pulled out of China in 2016 after failing to topple established Chinese ride-hailing app Didi.
But its success in Cambodia, Ambashi said, would rely on whether Uber can capitalise on its international appeal and the country's growing middle class.
"Uber is famous internationally, including in Cambodia," he said. "Consumers may try its services, as they are different from those of locals. If such trends occur, a bandwagon effect could be expected."
In 2016, Cambodia was named a lower-middle income economy. "In line with this development," Ambashi said, "more wealthy middle-income groups – which can afford to enjoy service consumption – are certainly emerging in Cambodia."
Uber has been valued at $69 billion, but reportedly made a loss in excess of $2.2 billion last year.
CHOOSE FILTER