The Research Institutes Network Holds Annual Meeting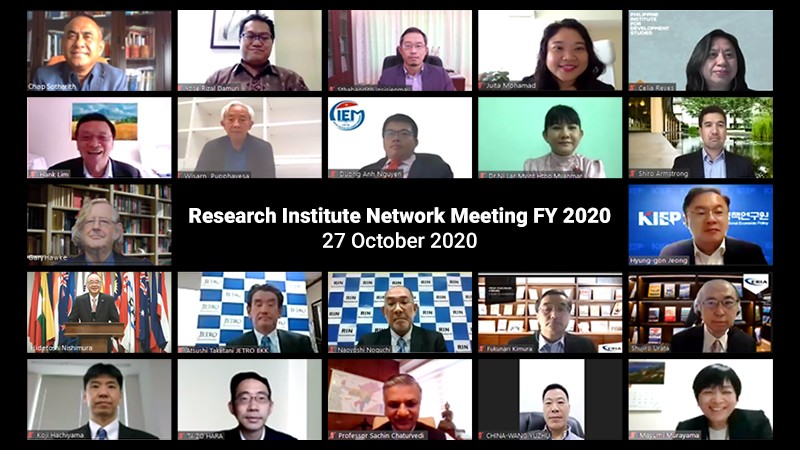 Jakarta, 27 October 2020: The Research Institutes Network (RIN) held its annual meeting to discuss ERIA's current research agenda in order to gather input from leaders of regional research organizations. Co-organized by ERIA and the Institute of Developing Economies- Japan External Trade Organisation (IDE-JETRO), the event was attended by representatives of the 16 RIN members.
Dr Hank Lim, Chairperson of RIN, moderated the event which was opened by Prof Hidetoshi Nishimura, President of ERIA. In his opening remarks, Prof Nishimura presented an overview of ERIA's recent research and accomplishments including policy input at high-level ministerial meetings. ERIA's work has been commended in several official statements. He highlighted current research topics including ageing societies, energy, connectivity, agriculture and COVID-19. He also thanked co-organizer JETRO for the series of RIN workshops that they held to encourage RIN members to share their knowledge about how to tackle COVID-19.
The first presentation was by Dr Keita Oikawa, ERIA Economist, on the ERIA Survey of the Impact of COVID-19 on Business Activities and Supply Chains in East Asia and the ASEAN region which will be completed in mid-2021. Partnering with Deloitte Consulting, the survey focusses on Three issues regarding business activities in ASEAN + India in the wake of COVID‐19 pandemic:
Changes in the outlook for business performance
Changes in the strategies regarding supply chains (customers, suppliers, and locations)
Opinions on government responses to the pandemic
He asked for RIN member support in disseminating the survey.
Prof Fukunari Kimura, ERIA Chief Economist, presented ERIA's current research projects which are organized under ERIA's research pillars: Deepening Economic Integration, Narrowing Development Gaps, and Sustainable Development, followed by Energy. He then gave an overview of ERIA's research on COVID-19 including eight policy briefs (which can be found here).
This was followed by a short report on ERIA's Call for Proposals related to COVID-19 by Dr Dionisius Narjoko, ERIA Senior Economist who is leading the project. ERIA launched a Call for Proposal for the 'ERIA Research on COVID-19 and Regional Economic Integration last July 2020 and received more than 180 proposals of which 40 have been accepted. The studies cover a range of issues such as trade and GVCs, labour, macroeconomics, SMEs, inequality, tourism, and air transport, among others.
Dr Shiro Armstrong, Australian National University, presented a mid-term review of an ERIA-funded project titled 'Economic Integration and Policy Priorities in a Strategic Policymaking Environment' which examines the growing inter-relatedness of economics and national security in an increasingly uncertain international policy environment. This project seeks to examine the gaps and what needs to be done in this changing and dynamic political and security climate. More work is underway, and the study is expected to be published as a book by early 2021. Dr Armstrong thanked ERIA for funding and supporting the project.
Dr Lim then moderated a discussion with each RIN member representative providing input on the various areas of research.
Related Articles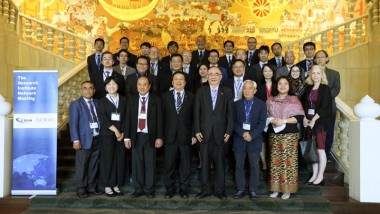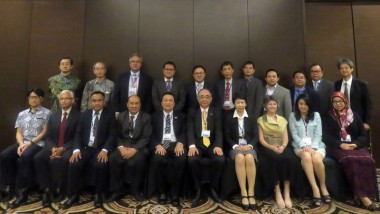 CHOOSE FILTER