The 2nd APEC Oil and Gas Security Forum, 25 March 2014, Tokyo Prince Hotel, Tokyo, Japan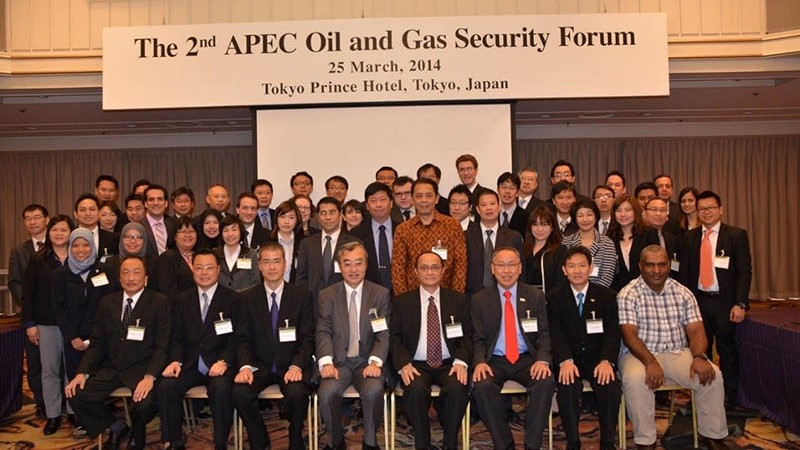 Representatives from APEC economies, including experts from METI, APERC, IEA, ERIA, ASCOPE, ACE, HAPUA and various universities attended the 2nd Asia Pacific Economic Cooperation (APEC) Oil and Gas Security Forum organized by the Asia Pacific Energy Research Center (APERC) held on 25 March 2014 at Tokyo Prince Hotel, Tokyo, Japan.
For this occasion, Dr. Han Phoumin, energy economist of ERIA, was invited as expert to present a paper on the "oil and gas security for ASEAN and East Asia in the near future and the implications of shale gas revolution". At the outset of his presentation, Dr. Han highlighted the importance of energy market integration in improving energy security from the view point of power infrastructure connectivity, including the current initiatives of the ASEAN Power Grid and Trans-ASEAN Gas Pipeline. He also mentioned that the gas consumption outlook in major consumer countries in ASEAN and East Asia is projected to increase significantly. For instance,China's gas consumption grows at almost 13 percent annually. Japan is also a large importer of LNG, with its gas demand almost met entirely by imports. And India's natural gas consumption is projected to increase by 4.9 percent per year between 2010 and 2035.Meanwhile, although ASEAN has also experienced a fast growing demand for natural gas, coal remains of strategic importance for ASEAN. Japan and China, on the other hand, are shifting their energy source from coal to gas, taking into account environmental issues while ASEAN and India are shifting to the utilization of affordable coal.
Dr. Han further stressed that the shift of energy demand towards Asia and the shale gas revolution are happening at the right time where Asia will need more energy, and USA's surplus will complement the deficit of the demand surplus. So, this is good news indeed. However, some gas producing countries may use "wait and see policies during this period of uncertainty of the unconventional gas revolutions," thereby still causing a tight supply for Asia.
Finally, he said that ERIA is considering energy security in ASEAN and East Asia as key to contribute to the sustained growth in the region. In this light, the development of unconventional oil and gas has emerged as the "game changer". Therefore, ERIA will continue to closely monitor developments in this area.
CHOOSE FILTER