The 1st Asia Cosmopolitan Awards Awarding Ceremony held at NARA FORUM 2012 in Japan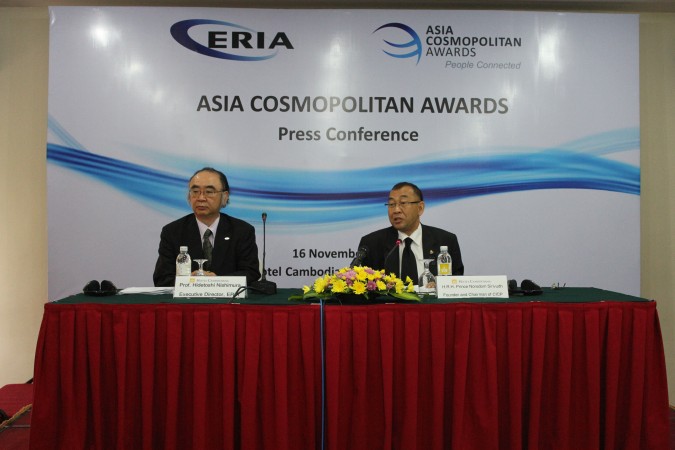 On December 18, the Economic Research Institute for ASEAN and East Asia (ERIA) and Nara Prefecture of Japan held an awarding ceremony at the awards commemorative forum called NARA FORUM 2012 at Nara Prefectural New Public Hall in Nara City in Japan.
The Asia Cosmopolitan Awards aims to recognize on a biennial basis individuals or organizations that have made substantial and significant contributions to the development of a peaceful and stable East Asian Community, to narrow the developmental gaps in the region, as well as to establish the sustainable social growth towards economic and cultural integration within East Asia. This event marks the first time for the awards to be presented.
The NARA FORUM 2012 featured commemorative speeches by the Grand Prize winner Dr. Supachai Panitchpakdi (Secretary-General of the UN Conference on Trade and Development [UNCTAD]), the Economic and Social Science Prize winner Prof. Benedict Anderson (Professor Emeritus of Cornell University), and the Cultural Prize winner Mr. Takehiko Inoue (Japanese manga artist), as well as keynote speeches by Dr. Surin Pitsuwan (Secretary-General of ASEAN) and Dr. Takashi Shiraishi (President of the Institute of Developing Economies Japan External Trade Organization [IDE-JETRO]).
On December 19, Dr. Supachai Panitchpakdi and Prof. Benedict Anderson will offer special lectures at Tezukayama University (Higashi Ikoma Campus) and Nara Women's University, respectively.
To reach the press release, please click on the following pdf file;
The 1st Asia Cosmopolitan Awards Awarding Ceremony held today at NARA FORUM 2012 in Japan (English)
The 1st Asia Cosmopolitan Awards Awarding Ceremony held today at NARA FORUM 2012 in Japan (Japanese)
CHOOSE FILTER