Thailand-Australia Ties Strengthen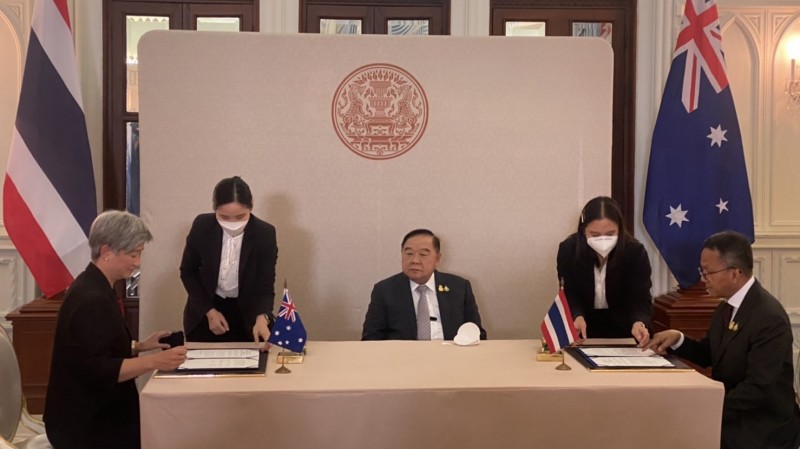 By Mr Kavi Chongkittavorn, Senior Communications Advisor: The visit of Australian Foreign Minister Penny Wong to Bangkok early this week has boosted bilateral ties with Thailand as never before. It was extremely significant, as the two countries are commemorating the 70th anniversary of their diplomatic relations and laying the future path for a more dynamic friendship and cooperation.
Wong reiterated that the longevity of the relationship reflects the breadth and depth of Thailand-Australian ties – a partnership based on mutual respect, trust and understanding.
Deputy and Foreign Minister Don Pramudwinai and Wong also signed the plan of action for their strategic partnership. The plan covers the whole gamut of their bilateral cooperation, including both traditional and non-traditional issues. Anti-trafficking in persons, cyber security, the digital economy and climate change mitigation are some of the priorities.
In addition, Australia would like to assist Bangkok's shift to the use of electric public buses, working to make cities more climate resilient, cooperating on the transition to green energy as well as working towards a strategic economic policy through more joint activities, aimed at promoting trade and investment in key sectors.
During the bilateral discussions, Don urged the Australian business community to invest more in Thailand. Currently, there are fewer than 200 Australian companies doing business here. In comparison, Japan has more than 7,000 companies invested in the country. Don reiterated that Australian investors could have done more by taking advantage of the conducive investment climate and existing free trade agreement. He is hopeful that, by 2025, the number of companies would increase threefold to around 700.
Turning to their regional role, as middle-sized powers, both Thailand and Australia share many aspirations. Indeed, they could work together to strengthen regional peace and predictability. Furthermore, both wish to see the region governed by accepted rules and norms, where sovereignty is respected regardless of size.
Australia also fully supports and commits to ASEANcentrality and ASEAN-led institutions. Wong pledged to work with all ASEAN members 'to shape this period of change together, including through the development of a Southeast Asia economic strategy to 2040'.
Beyond ASEAN, Thailand welcomed the fact that Australia was a member of the first batch of development partners in the Ayeyawady – Chao Phraya – Mekong Economic Cooperation Strategy, or ACMECS. Canberra also appreciatesthe role Thailand plays and the value it brings to the Mekong sub-region.
Thailand and Australia are heralding a closer and tighter strategic partnership, to ensure that the region will continue to be peaceful and prosperous.
This opinion piece was written by ERIA's Senior Communications Advisor, Mr Kavi Chongkittavorn, and has been published in Thai PBS World. Click here to subscribe to the monthly newsletter.
Disclaimer: The views expressed are purely those of the authors and may not in any circumstances be regarded as stating an official position of the Economic Research Institute for ASEAN and East Asia.
CHOOSE FILTER