Symposium to Connect with ASEAN Connectivity Stakeholders on 8-9 November 2011 in Bali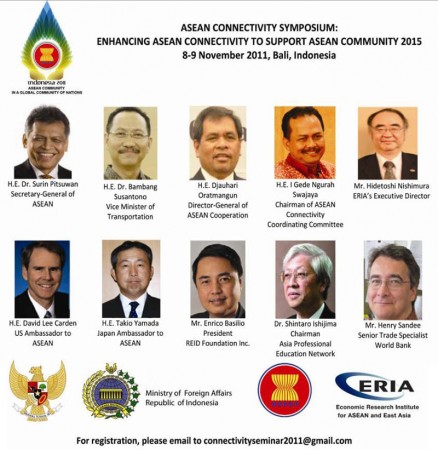 Themed "Enhancing ASEAN Connectivity to Support ASEAN Community 2015", the Symposium is co-organized by Indonesia with the ASEAN Secretariat and the Economic Research Institute for ASEAN and East Asia (ERIA) on 8 to 9 November 2011 in Bali.
Some 200 participants are expected to congregate at the Bali International Convention Centre for the symposium. The Symposium will provide the opportunity to follow the latest developments in the implementation of the Master Plan on ASEAN Connectivity and provides a platform for ASEAN to dialogue with and engage the key stakeholders in the implementation process.
The Symposium consists of a main plenary session where speakers from the government and private sectors, academia and research sectors, and international organizations will speak on topics relating to key initiatives in the Master Plan including facilitating intra- and extra-ASEAN trade, connecting mainland and archipelagic Southeast Asia and building a people-centered ASEAN. It also features breakout sessions to provide for more focused discussion on topics such as financing the implementation of the Master Plan.
Symposium to Connect with ASEAN Connectivity Stakeholders.pdf
CHOOSE FILTER