Significance of Vietnamese President Phúc's visit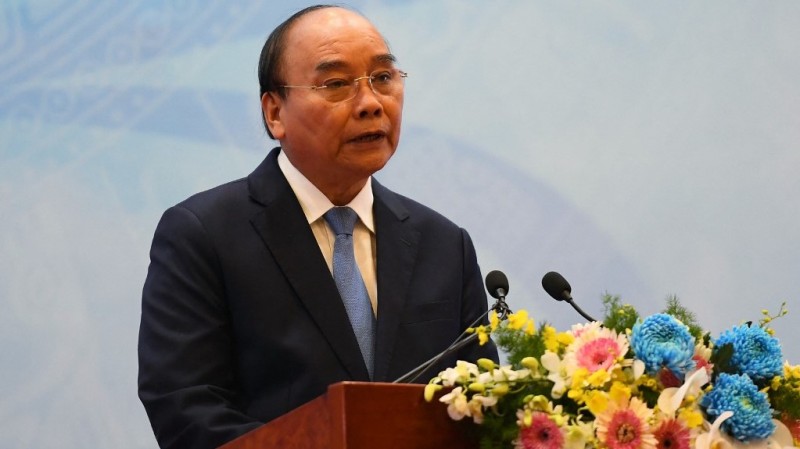 By Mr Kavi Chongkittavorn, Senior Communications Advisor: Vietnamese President Nguyen Xuân Phúc will become the first APEC leader to arrive in Bangkok and will be paying an official on November 16th, ahead of the Asia Pacific Economic Leaders' Meeting, or AELM, on November 18th. His visit marks a new milestone in this unique relationship. Once arch-enemies, today the two countries have elevated their relations to a strengthened strategic partnership, upgrading from a strategic partnership they have held since 2013.
Due to the fast-changing regional and global security environment, Thailand and Vietnam are looking for new approaches and ways to deepen their cooperation and friendship, both in the Mekong and ASEAN frameworks, to ensure peace and stability in the region.
Prayut previously met Phúc in Sochi, during the special ASEAN-Russia Summit in May 2016. Phúc, was welcomed to Bangkok once again during the royal funeral of King Bhumibol Adulyadej the Great.
His visit is very much anticipated, as the leaders have not yet had the opportunity to meet face-to-face. Several attempts to organise the fourth Joint Cabinet Retreat (JCR) proved impossible due to the COVID-19 pandemic. Now, both sides are planning to meet early next year.
During the pandemic, bilateral mechanisms such, as the Joint Commission on Bilateral Cooperation, the Political Consultation Group, the Joint Working Group on Political and Security Cooperation and the Joint Trade Committee,continued to hold discussions and consultations via virtual meetings.
President Phúc will lead a high-power delegation, including leading provincial leaders and businessmen, during the three-day visit to Thailand. Phúc will also attend the APLM. Vietnam has expressed support for Thailand's plan to promote sustainable development and a green economy under the new Bio-Circular-Green economic model.
As a lower riparian country, Vietnam is also a key driver of development in the Mekong sub-region, especially the revitalised Ayeyawady-Chao Phraya-Mekong Economic Cooperation Strategy (ACMECS). All along, Vietnam has played a crucial role in highlighting the Mekong's plights,related to water management, biodiversity conservation, migration and fish stocks, among others.
During the ASEAN chairmanship in 2020, Vietnam was able to increase external engagement with the ASEAN dialogue partners, to provide assistance to the Mekong sub-region. The US increased its engagement with the sub-region and transformed the 10-year Lower Mekong Initiative into the more dynamic Mekong-US Partnership, as it is known today. Washington has made the Mekong development plan an important part of its Indo-Pacific Strategy.
Over the years, Thailand has increased its investment in Vietnam in all business sectors, including real estate, petro-chemicals, alternative energy, retail businesses and food processing. Vietnam is the fifth largest trading partner of Thailand and No. 2 after Malaysia in ASEAN. Last year, bilateral amounted to US$19.4 billion, a 17.3% increase from the previous year, with a trade surplus of US$5.6 billion.
Thailand's investment in Vietnam currently ranks No. 8, with a total of 644 projects worth more US$13 billion. Among the ASEAN members, it ranks second after Singapore.
One area that both sides realise needs more collaboration is the mitigation of illegal fishing, although this has been reduced over the years thanks to the joint committee set up to oversee and regulate the fishing fleets. At the ASEANministerial meeting in 2019, Thailand's engagement with the EU in resolving illegal fishing was recognised as a best practice, which its ASEAN colleagues would be able to emulate.
As far as security cooperation is concerned, both countries' naval forces conduct joint coastal surveillance twice a year. Their senior defence officials, at the Permanent Secretary level, also hold regular bilateral talks
The most promising area remains the tourism sector, due to the popularity of Thai destinations among Vietnamese visitors. In the first half of this year, at least 70,000 Vietnamese visited Thailand. Prior to the COVID-19 outbreak, there were 288 flights weekly, with the capacity to carry nearly 4,839 passengers per day, or 50,970 per week. From January to May this year, a total of 44,000 Vietnamese tourists visited Thailand.
Thailand and Vietnam have established 14 sister city pairings,covering 10 provinces, second only to China with a total of 42 pairings. There are 1,500 Thais living in Hanoi with 500 more in Ho Chi Minh, together with an additional 1,000 in nearby cities. 1,200-1,300 Vietnamese, mainly students and businessmen, are living in Thailand.
This opinion piece was written by ERIA's Senior Communications Advisor, Mr Kavi Chongkittavorn, and has been published in Thai PBS World. Click here to subscribe to the monthly newsletter.
Disclaimer: The views expressed are purely those of the authors and may not in any circumstances be regarded as stating an official position of the Economic Research Institute for ASEAN and East Asia.
CHOOSE FILTER