Regional Challenges: ASEAN View at the OECD Global Parliamentary Network Meeting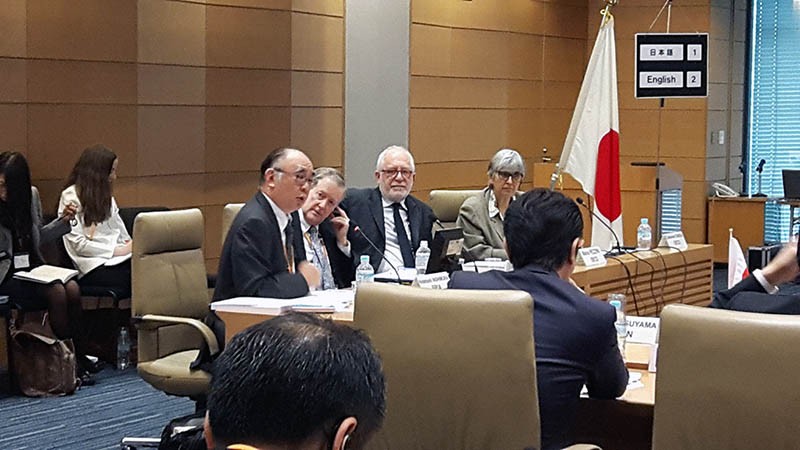 The Organization for Economic Cooperation and Development (OECD) Global Parliamentary Network Meeting was held in Tokyo on 12 - 13 April 2016, organized by the OECD and the National Diet of Japan at the International Conference Room of the House of Representatives.
The meeting was open to Members of Parliament and parliamentary officials of OECD Member Countries. Participants discussed their common challenges, shared experiences, and learned from each other and the OECD.
Prof. Hidetoshi Nishimura was one of the invited discussants on Regional Challenges - A view from Asia. Mr. Randall Jones, Head of Japan/Korea Desk, Economics Department, OECD and Mr. Mario Pezzini, Director of the OECD Development Centre also shared their expertise of global and regional economic trade issues.
Prof. Nishimura discussed the challenge of concluding RCEP negotiations as well as the importance of infrastructure investment supported by public finance as important drivers of the regional economy.
H.E. Mr. Masaharu Nakagawa, Member of the House of Representatives (Japan), H.E. Mr. Toru Miki, Member of the House of Councilors (Japan) and H.E. Mr. Satit Chanjavanakul, MP (Thailand) also provided their thoughts and insights on challenges facing the region.
| | |
| --- | --- |
| Presentation at the Lunch Reception hosted by Japan's METI Minister, Tokyo, 12 March 2016 | With H.E. Mr. Seiji Kihara, State Minister for Foreign Affairs at the Lunch Reception hosted by Japan's MOFA Minister, Tokyo, 12 March 2016 |
CHOOSE FILTER