Pulse Lab Comes to ERIA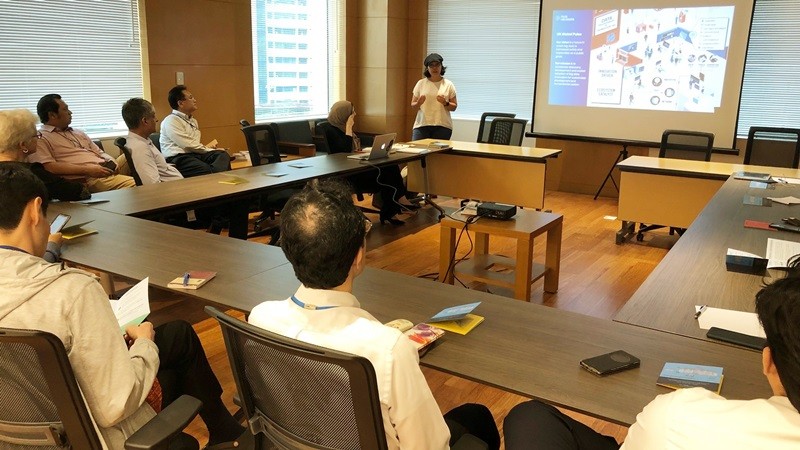 Jakarta, 29 November 2019: The Economic Research Institute for ASEAN and East Asia (ERIA) hosted a discussion with Pulse Lab Jakarta (Pulse Lab) about their organizational mission and current projects helping to shape Indonesia.
The discussion provided ERIA with insights into the origin and goals of Pulse Lab. The discussion was led by Lama Ahmad, Luce Scholar and Mellyana Frederika, Urban and Regional Dynamics Lead. An organisation created by the United Nations Global Pulse, Pulse Lab focuses on how big data science can be used to improve government and public policy initiatives. Focusing on exploratory research, improving data usage, and ensuring ethical data usage, Pulse Lab partners with private and public organisations to bring together multiple stakeholders to create new and innovative models in a variety of fields including: transportation and financial inclusion.
The Pulse Lab team highlighted some of their major initiatives in big data science and public policy. This included a project to partner with Twitter to use location data of tweets to determine traffic flows, reducing the cost and time required to collect this information through traditional surveys. They also shared with the ERIA team their research on how to improve financial inclusion across Indonesia for women and micro-enterprises, understanding that how certain technologies are introduced is the most important factor to determining their uptake by a population.
The discussion concluded with some questions to the Pulse Lab team, highlighting the way Pulse Lab operates directly with Indonesian government agencies. ERIA thanks Pulse Lab for their time and is happy to have shared in this discussion.
CHOOSE FILTER