Preparing New Growth Paths for Viet Nam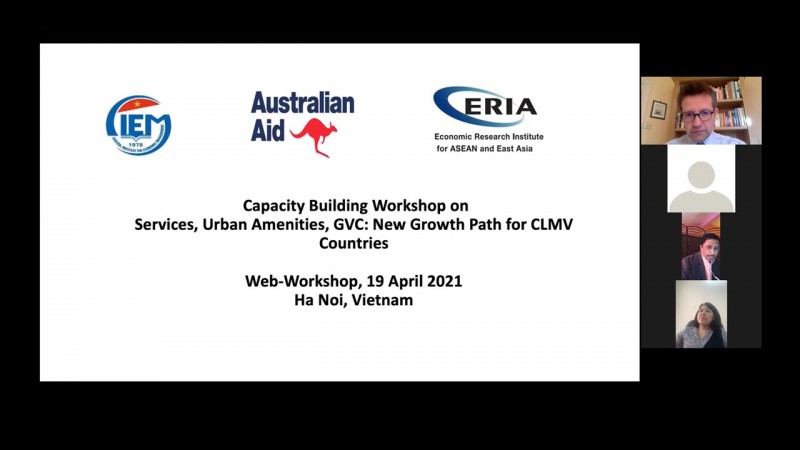 Ha Noi, Viet Nam, 19 April 2021: ERIA's Capacity Building Programme held an online workshop, 'Services, Urban Amenities and Global Value Chain: New Growth Paths', on 19 April, for 15 officials from various ministries. Jointly hosted by the Central Institute for Economic Management (CIEM), Viet Nam and ERIA, the webinar was moderated by Mr Jeremy Gross, ERIA's Director of Capacity Building. In his opening remarks, Jeremy expressed ERIA's continuous commitment to support economic development in ASEAN as well as highlighting some significant ERIA deliverables over the years.
The workshop was led by Prof. Shandre Thangavelu of the University of Adelaide's Institute of International Trade and the Jeffrey Cheah Institute of Southeast Asia, Sunway University. Divided into two sessions, the first session focused on Cities, Services and GVC: Case of ASEAN LDCs and Viet Nam and looked at trends in leveraging and trade patterns in manufacturing and services in Viet Nam. The second session, New Growth Path for ASEAN: Gaps, Challenges, and Opportunities, focused on the opportunities for building up efficiencies and connectivity through cities linkages and networks. It also highlighted several challenges that need to be considered concerning industrialisation and human capital.
Participants raised questions about the strategy for industrial development, the role of digitalisation, human capital, logistic and institutional reform as ways to promote inclusive growth. Dr Dang Thi Thu Hoai, Director of Department on Sectoral Policy Studies, in her closing remarks on behalf of CIEM, expressed her utmost appreciation of ERIA's collaboration to promote economic development in Viet Nam.
CHOOSE FILTER