Opening Ceremony of EAS-ECTF Renewable and Alternative Power Generation Workstream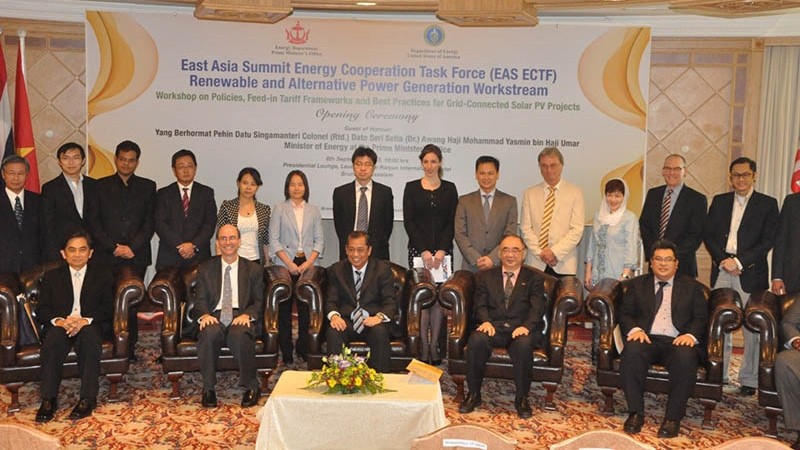 Prof. Hidetoshi Nishimura, Executive Director of ERIA, attended the opening ceremony of East Asia Summit (EAS) Energy Cooperation Task Force (ECTF) Renewable and Alternative Power Generation Workstream on September 8, 2013 in Brunei Darussalam
It was organized by the Energy Department at The Prime Minister's Office and The US Department of Energy in partnership with the Brunei National Energy Research Institute (BNERI).
The EAS ECTF during its 18th Meeting in Bali, Indonesia in last June endorsed the new "Renewable and Alternative Power Generation" workstream.This new workstream promotes and addresses key issues in renewable energy technology development and deployment through sharing of experiences, lessons learned and accumulated knowledge.
In his opening address, Prof. Nishimura highlighted that the potential new, renewable and geothermal generation is very promising. Although the introduction of the new and renewable energy power generation system requires certain costs, he is optimist that at the same time, application of the fossil fuel can be reduced. Prof. Nishimura emphasized on the introduction of the feed-in tariff system as well as the policy and measures to provide support for R&D activities to improve stability and reduce the power generation cost of new and renewable energy system. In his conclusion, Prof. Nishimura declared that ERIA is willing to contribute to the newly established Work Stream of the EAS/ECTF on the Renewable and Alternative Power Generation.
During the opening ceremony, His Excellency Ambassador Daniel Shields, US Ambassador to Brunei Darussalam and Prof. Nishimura made opening remarks and the keynote speech was conveyed by Yang Berhormat Pehin Dato Mohammad Yasmin Umar, Minister of Energy at the Prime Minister's Office.
CHOOSE FILTER