OECD and ERIA Parliamentary League Joint Meeting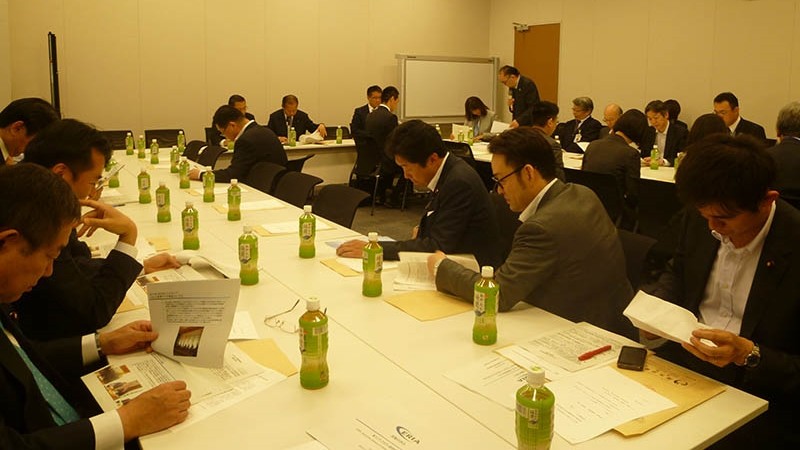 Responding to the MOU signed between OECD and ERIA on May 5, 2014, an OECD and ERIA Parliamentary League Joint Meeting was held on May 23, 2014 in Tokyo, Japan.
As the Chairman of both Parliamentary Leagues, H.E. Mr. Toshihiro Nikai made opening remarks, welcoming all participants. He expressed further support to the activities of OECD and ERIA on behalf of both the Parliamentary Leagues.
Ms. Yumiko Murakami, Head of OECD Tokyo Centre, thanked the members to launch the OECD Parliamentary League. She stressed that OECD should be working to strengthen cooperation with Asia in view of the importance of Asia in global affairs since only Japan and Republic of Korea were Asian members of OECD. She also said that ERIA will play a significant role in developing OECD's relationship with Asia.
Prof. Hidetoshi Nishimura, Executive Director of ERIA, explained about the MOU signing ceremony on May 5. He said "this signing of MOU was the first step for the implementation of a dream between H.E. Mr. Nikai and H.E. Mr. Angel Gurria, Secretary General of OECD".
In July 2006, H.E. Mr. Nikai had proposed to H.E. Mr. Gurria to establish a think tank as an East Asian version of OECD in Asia. The Secretary General welcomed this proposal. Accordingly, ERIA's establishment was decided at that time.
The meeting also discussed how OECD and ERIA can effectively cooperate for the development in ASEAN and East Asia and reaffirmed the importance of utilizing and sharing the expertise between both institutes.
CHOOSE FILTER