New Thai-Malaysia Economic Dynamics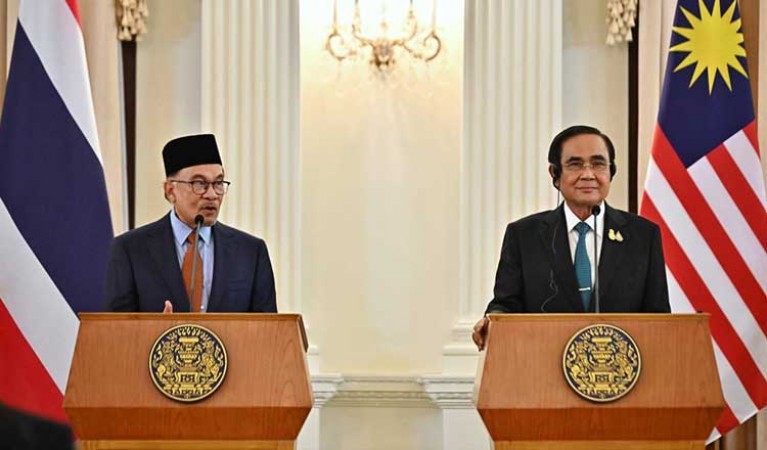 By Mr Kavi Chongkittavorn, Senior Communications Advisor: Without any diplomatic pleasantries, Prime Minister Prayut Chan-o-cha kicked off bilateral talks last week with his Malaysian counterpart, Prime Minister Anwar Ibrahim, by stating clearly that Thai-Malaysian ties have not been progressing very well. The opening remarks drew a big smile from Mr Anwar as a sign of appreciation. It immediately set the tone of his two-day visit.
At the press conference afterwards, he indirectly referred to his discussion with Gen Prayut, commenting that it was not an ordinary diplomatic session as it was a frank exchange. 'I joked with him that for ordinary diplomatic sessions, you leave it to the foreign ministers, but for the most serious it's a frank exchange. We have done that and I must thank you profoundly that you have allowed this and you have also reciprocated in terms of having the exchanges,' he revealed.
Indeed, the 75-minute session has not only augmented a new level of trust but also forged a new economic partnership between the two neighbors as never seen before. Obviously, ahead of Mr Anwar's visit, all the media attention was focused on the security issues in Southern Thailand. However, it was the good news on the economic front that has made Mr Anwar's trip so special.
To be more specific, after Mr Anwar took up the premiership, Energy Absolute, a Thai company devoted to renewable energy and green technology, decided to invest 380 billion baht (equivalent to 45 billion ringgit) in developing green technology and electric vehicular technology transfer in Malaysia. Gen Prayut highlighted the project during the discussion to show that both countries could do a lot more to promote all aspects related to economic development, including trade and investment, especially joint development in adjacent areas along the border.
That was the main reason the Thai side touched on the need to strengthen and intensify work under the existing special mechanism set up two decades ago, the Committee on Joint Development Strategy (JDS), in the border areas. They cover Satun, Songkla, Narathiwat, Yala and Pattani on the Thai side and Terengganu, Kelantan, Perlis and Kedah on the Malay side. This unique entity is co-chaired by foreign ministers with the assistance of the National Economic and Social Development Council of Thailand and its Malaysian counterpart, the Economic Planning Unit. They agreed that the works of JDS has been rather sluggish, and more political will is needed to ramp up cooperation.
During his two-day visit, Mr Anwar also charmed his northern neighbor, Thailand, with five clear messages. The most important one is that Thai-Malaysian relations should not be held hostage by the trouble on the southern border. Furthermore, Malaysia does not condone the use of violence to resolve any conflict. With the 595-kilometre shared frontier, both countries have to work together to develop adjacent border areas for common peace and stability. Finally, as far as the region is concerned, the two countries must do more and cooperate closely to tackle common challenges in ASEAN, especially those arising from the Myanmar quagmire and superpower's competition.
Overall, both countries have been able to revitalize their stalled relationship. Mr Anwar's discussions with Gen Prayut and Deputy Prime Minister Prawit Wongsuwon touched on the whole gamut of their cooperation that could bring peace and prosperity to both countries. Other issues included connectivity in trade, investment and infrastructure, as well as strengthening industrial cooperation in the fields of rubber, halal food and energy. His visit also enabled both countries to explore new areas of cooperation, such as the digital economy and green technology. As such, they agreed to boost two-way trade to $30 billion by 2025 through existing bilateral mechanisms to enhance trade facilitation and reduce tariffs.
However, one of the most productive and insightful discussions was on regional and security issues, especially the current Myanmar crisis and the situation in Southern Thailand. On Myanmar, Mr Anwar was candid, picking up on Thailand's role as the country which shares the longest border (2,402 kilometres) with Myanmar. He nudged Thailand to play a more active role in ending the Myanmar conflict. 'You are in a better position to express our concerns that the internal issues in Myanmar must be resolved internally but still have ramifications or repercussions for the region,' he told the press conference. Unlike the rest of the ASEAN members, Thailand and Malaysia have the largest Myanmar diasporas. So they have a common stake in seeing normalcy restored in Myanmar.
Currently, approximately 6 million migrant workers from Myanmar are working in Thailand, legally and illegally. Malaysia has taken in at least 200,000 Rohingya, which has caused discomfort among local communities. The majority crossed the border from Thailand through human smuggling networks. Both face the same challenge: any further disruption inside Myanmar will have far-reaching ramifications for them. Therefore, Gen Prayut and Mr Anwar reached an understanding that the two countries must work together on the Myanmar crisis.
Notably, the new Malaysian government has been realistic in assessing the situation inside Myanmar. In his previous role as opposition party leader, Mr Anwar was active in seeking a peaceful resolution to Myanmar's ethnic conflicts and held meetings with representatives from non-governmental organisations based in ASEAN working on various issues, especially on the situation in Myanmar. With the two countries pledging to work more closely together as well as within the ASEAN framework, Thailand's role would be further strengthened as it can serve as a bridge for all concerned to move on with inclusive national dialogue and action plans on humanitarian assistance. Under Mr Anwar, Thailand is confident that Malaysia will support the ASEAN consensus on overall policy approaches to Myanmar.
Addressing the Rohingya issue, the Thai government has been working hard to crack down on criminal networks in the past several years. Only in the past years has the hard-earned progress been recognized. The latest report on Trafficking in Persons by the US State Department acknowledged the results in combating human smuggling rings in the southern provinces. Washington has upgraded Bangkok to Tier 2 this year from the last year's Tier 2 watch list. Last week's meeting allowed both sides to renew their commitment to helping to halt illegal border crossings. Indeed, improved coordination between border officials at common frontiers would help to halt illegal crossing back and forth. Obviously, along the Thailand-Myanmar border as well as in the southern coastal areas, the Thai side must tighten up its border surveillance.
Before he left Bangkok, the Malaysian PM was the guest of honour at the lunch given by Deputy Minister Prawit at a fice-star hotel on Sukhumvit Road. My Anwar had a very good opportunity to discuss outstanding bilateral issues as well as new initiatives to boost security and economic ties. The meeting, which turned out to be more than lunch, was characterized as "sincere and frank" by those who attended.
Concerning the situation in the southern provinces, Thailand's trust and expectations in the facilitating role have greatly increased. Mr Anwar appointed a senior military official he could trust as the new facilitator. General Tan Sri Zulkifi Zainal Abidin, a former armed forces chief, is well-known and has been well-received by the Thai authorities.
They hope that under his facilitating role, the peace process will proceed with deliverable outcomes that will lead to peace in southern Thailand in the near future. His role will closely scrutinized at the coming peace talks, the sixth in the series, to be held in Kuala Lumpur later this month. To attain peace and prosperity, Thailand fully supports the plan by the Anwar administration to set up a single border agency that unifies the functions of more than 20 agencies, using modern technology without compromising security.
Mr Anwar's visit was extremely significant in setting a new trajectory for closer cooperation and consultation. Thailand has made clear that it would negotiate for a peaceful settlement with the Barisan Revolusi National (BRN). As the facilitator, Malaysia has to ensure that the key movers and shakers inland who genuinely can impact the peace process are included in the peace process without prejudice. Thailand is hoping that if the peace process proceeds smoothly, the seventh round, scheduled for late March, can go ahead with tangible results. The key objective is to agree on comprehensive plans toward peace by the end of the year. At this juncture, it remains a tall order. Both Thailand and the BRN have already agreed on the terms of reference of their pacifist engagement. But somehow, when it comes to implementation, it is still found wanting. Indeed, Thailand has to diligently do its homework as well as ascertain that all agencies can work in tandem, especially on what is going on the ground and at the negotiating table. Better communication with local youth and their community-based organisations is pivotal to creating awareness and better understanding.
Finally, Mr Anwar's concept of "Malaysia Madani" resonates very well in Thailand. The norms and principles of Malaysia Madani that want to move the country forward in prosperity in a transparent and legitimate manner without leaving anyone behind are in line with the Thai approach. As such, in the deep South, it would have an immediate positive result for the peoples of the two countries in trust-building and joint development efforts in the months and years to come.
This opinion piece was written by ERIA's Senior Communications Advisor, Mr Kavi Chongkittavorn, and has been published in Khmer Times. Click here to subscribe to the monthly newsletter.
Disclaimer: The views expressed are purely those of the authors and may not in any circumstances be regarded as stating an official position of the Economic Research Institute for ASEAN and East Asia.
Photo: Malaysia's Prime Minister Anwar Ibrahim (left) and Thailand's Prime Minister Prayut Chan-O-Cha attend a joint press conference during an official state visit at Government House in Bangkok on February 9, 2023. AFP (Photo Credit)
CHOOSE FILTER