Ministerial Meeting Tackles Future Directions for Global Utilisation of Hydrogen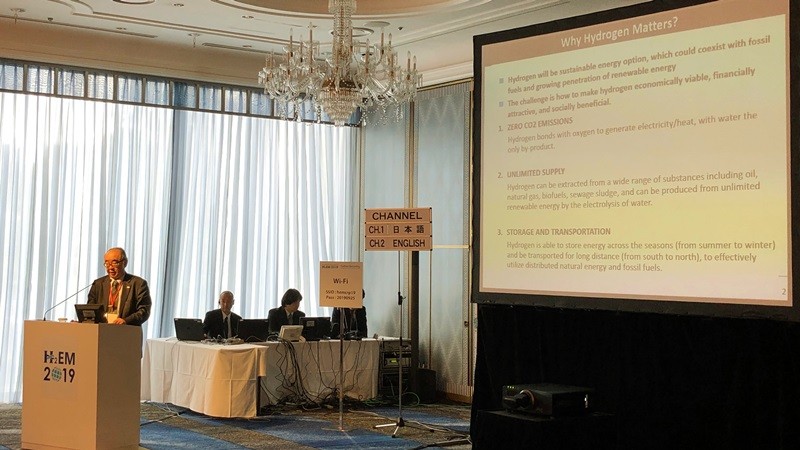 Tokyo, 25 September 2019: ERIA President Prof. Hidetoshi Nishimura led an ERIA delegation to the 2nd Hydrogen Energy Ministerial Meeting held on 25 September 2019 in Tokyo, Japan.
This was the second ministerial conference on hydrogen energy–related issues organised by Japan's New Energy and Industrial Technology Development Organization and hosted by the Government of Japan through the Ministry of Economy, Trade, and Industry (METI). More than 10 energy ministers from different countries, government officials, business representatives, and academics attended.
The Hydrogen Energy Ministerial Meeting, inaugurated in 2018 and hosted by Japan, is the world's first platform 'to encourage countries worldwide to promote global-level utilisation of hydrogen and to further consolidate collaboration among member countries in a synergistic manner'.
In his welcome remarks, Minister of Economy, Trade, and Industry of Japan, H.E. Mr Isshu Sugahara discussed the potentials of hydrogen for the transport, industry, and electricity sectors in dealing with global warming.
Prof. Nishimura presented a paper on hydrogen potentials in the East Asia Summit region, stating that hydrogen is becoming a realistic option in technology development on both demand and supply sides. Citing the significant potential hydrogen demand and supply in the region, he encouraged developed countries to lead in policy planning, technology development, and infrastructure investment.
During the G20 Ministerial Meeting on Energy Transitions and Global Environment on Sustainable Growth, in Karuizawa, Japan, in June 2019, ERIA launched a report on the demand and supply potential of hydrogen energy in East Asia. The ministerial statement encourages ERIA to develop further research on hydrogen energy in the region.
The ministerial session of the 2nd Hydrogen Ministerial Meeting released a global action agenda to guide countries in realising the 2018 Tokyo Statement. The agenda encourages the International Energy Agency, International Renewable Energy Agency, and ERIA to do further analyses on hydrogen.
CHOOSE FILTER